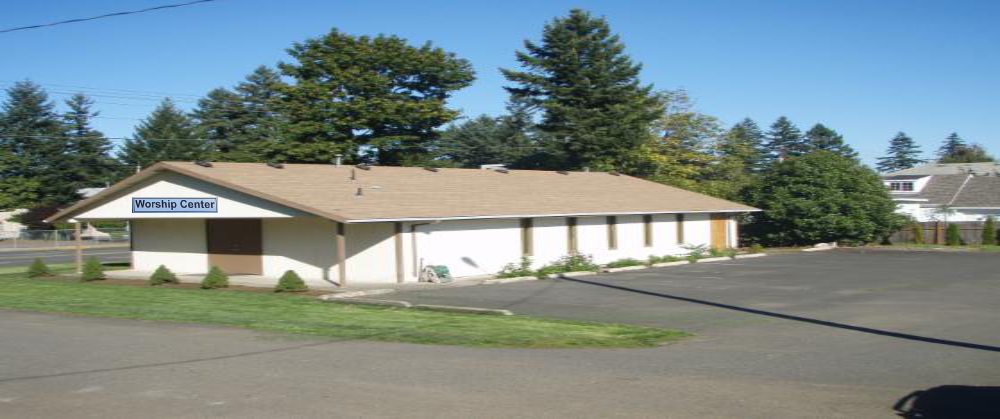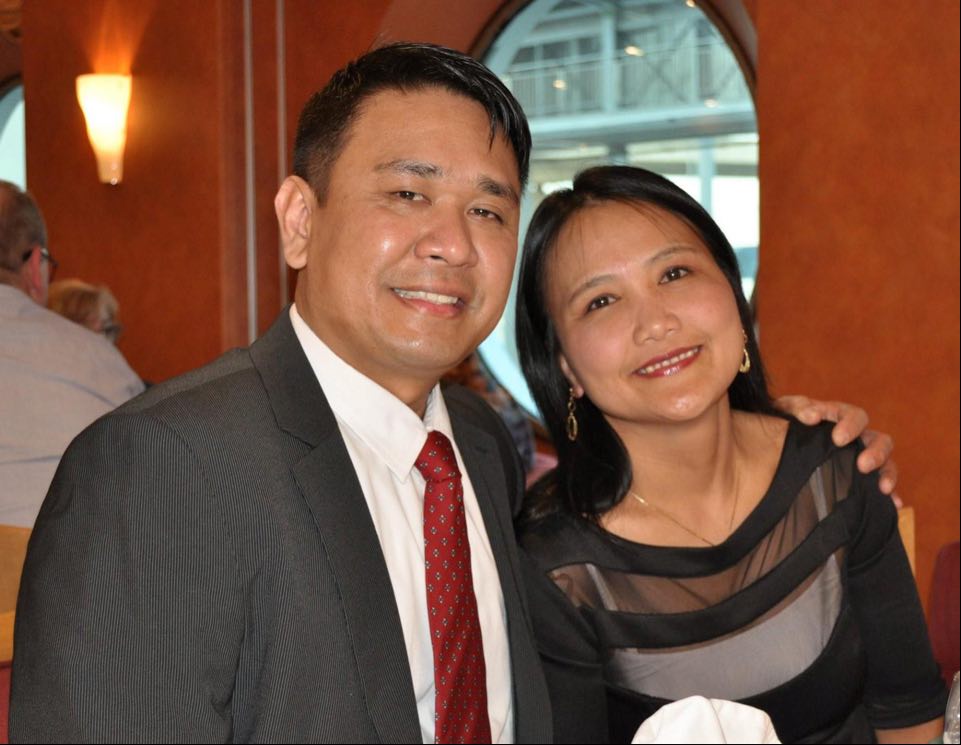 Pastor's Corner



by Pastor Philip Cortez

FEBRUARY 2021
Testimony of Salvation and Calling
So many times I think of a "testimony" about how we come to know Jesus as Lord and Savior and His assurance of salvation. I grew up in the church, but had no personal relationship with Jesus. It was not until I was 17 and understood what the gospel is and was saved during the Summer Youth Camp. I committed my life on that day and decided that I would serve the Lord and go to a bible school. As time went by, I was witnessing how pastors struggled financially when they did not have adequate income to meet their financial obligations. I became a coward when it came to becoming a pastor at a young age. So, I went to school and took an engineering course and I was able to work as a Seaman(Seafarer on a cruise ship).
In 2009, I got married and quit my job to be with my family in Italy. I went back to church involvement and I was appointed as a Preacher in September 2011. I have attended all the trainings available at our church, such as Practical Church Ministries and graduate studies in Theology at Macedonia Bible Institute under Piedmont College of Theology International in North Carolina, USA. In February 2018, I was appointed as a missionary Preacher in Turin, until my mother-in-law's petition for my wife was approved on March 2020, despite all the obstacles due to the pandemic. By God's grace and provision, we were able to make it to travel here to the US.
I once was a coward and forsook a commitment, God put me back into the track and made me vessel ready to be used for His glory. He gave me a new perspective that my time was in His hands. Perhaps we need to be telling one another everyday how and from what Jesus saves us. I think our testimonies would encourage one another to walk in the Spirit.
Brethren, I count not myself to have apprehended: but this one thing I do, forgetting those things which are behind, and reaching forth unto those things which are before. I press toward the mark for the prize of the high calling of God in Christ Jesus (Philippians 3:13-14).

CHARACTERISTICS OF THE SUCCESSFUL BELIEVER
Psalm 1:1,2
INTRO
There are many yardsticks by which men measure success.
Among them are: wealth, education, power, position, prestige, etc. These are all indicators of worldly success.
Success for the believer is more internal that external.
Thankfully Psalm 1 exists. In this worthy doorkeeper to the psalms, we find insight into what makes a believer successful.
Today, as the plumbline of God's Word moves alongside our life, we see for ourselves just how you measure up to God's standard for successful Christian living.
CHARACTERISTICS OF THE SUCCESSFUL BELIEVER
I. v. 1 THE PATH OF THE SUCCESSFUL BELIEVER(Review)
Psa 1:1 Blessed is the man that walketh not in the counsel of the wicked, Nor standeth in the way of sinners, Nor sitteth in the seat of scoffers:
A. The Successful believer is separated in his walk of life.
1. He doesn't Believe like the wicked. He doesn't listen to their counsel and invitations to evil) His hearing is turned a little higher!
2. He doesn't Behave like the wicked. Ill. The old man has been put forever away!)
3. He doesn't Belong with the wicked. Ill. He feels out of place when surrounded by the devil's crowd.
CHARACTERISTICS OF THE SUCCESSFUL BELIEVER
I. v. 1 THE PATH OF THE SUCCESSFUL BELIEVER
ll. v.2 THE PLEASURE OF THE SUCCESSFUL BELIEVER
Psa 1:2 But his delight is in the law of the LORD; and in his law doth he meditate day and night.
Delight
Definition of delight (Entry 1 of 2)
1: a high degree of gratification or pleasure:
also : extreme satisfaction
2: something that gives great pleasure
(Ill. The successful believer is genuinely and completely in love with the Word of God.)
A. The Word Has Captured His Full Affection ..Delight = Pleasure!
-The Word of God isn't a Book of fables, myths and legends.
-Next to the gift of Christ and the Holy Spirit, the Bible is the third greatest gift.
-One of the greatest gift of God to mankind is His precious Word known as the BIBLE.
-The Bible is the oldest book in existence. It required sixteen centuries to write it; the first
-writer died 1450 years before the last writer was born.
-The Bible lends itself to translation and has been translated in whole or in part in more than a thousand languages and dialects.
Note:
People affected by: TRADITION, THEORY, TRUTH (the Bible)
-Word of Truth. Joh 17:17 Sanctify them through thy truth: thy word is truth.
-The word BIBLE is derived from Greek word BIBLIOS which means The Book or Collection of Books.
The Bible is uniquely inspired by God, and is therefore authoritative in our life especially in providing guidelines for our belief and practices.
2Ti 3:16 All scripture is given by inspiration of God, and is profitable for doctrine, for reproof, for correction, for instruction in righteousness:
2Ti 3:17 That the man of God may be perfect, throughly furnished unto all good works.
• DOCTRINE – the Bible shows the path to walk on
• REPROOF – the Bible shows when you have gotten off the path
• CORRECTION – the Bible shows how to go back to the path
• INSTRUCTION – the Bible shows how to stay on the path
-It is God-breathed and infallible (incapable of error), inerrant (free from error) and absolutely perfect.
THE VALUE OF THE WORD:
1. It is Food
Job 23:12 "I have esteemed the words of his mouth more than my necessary food. "
Mat 4:4 But he answered and said, It is written, Man shall not live by bread alone, but by every word that proceedeth out of the mouth of God.
a. Milk for the baby
1Pe 2:2 As newborn babes, desire the sincere milk of the word, that ye may grow thereby:
Ill. It gives the baby Christian everything he needs to grow up strong and healthy!
Ill. It needs to be prepared and served right however!
b. Meat for the growing
Heb 5:14 But strong meat belongeth to them that are of full age, even those who by reason of use have their senses exercised to discern both good and evil.
Ill. It provides all we need to make us strong in the Lord!
c. Bread for everyone – John 6:51 (Ill. Bread is the staple food of the world! No matter where you go, people need the Bread of life!)
Joh 6:51 I am the living bread which came down from heaven: if any man eat of this bread, he shall live for ever: and the bread that I will give is my flesh, which I will give for the life of the world.
1. It is Food
2. It is Light
John 11:10 - But if a man walk in the night, he stumbleth, because there is no light in him.
Psa. 119:105 Thy word is a lamp unto my feet, and a light unto my path.
3. It is a Mirror – James 1:23-25
Jas 1:23 For if any be a hearer of the word, and not a doer, he is like unto a man beholding his natural face in a glass:
4. It is a Seed – 1 Pet.1:23
Pe 1:23 Being born again, not of corruptible seed, but of incorruptible, by the word of God, which liveth and abideth for ever.
5. It is a Sword – Heb. 4:12; Eph. 6:17
Heb 4:12 For the word of God is quick, and powerful, and sharper than any twoedged sword, piercing even to the dividing asunder of soul and spirit, and of the joints and marrow, and is a discerner of the thoughts and intents of the heart.
Eph 6:17 And take the helmet of salvation, and the sword of the Spirit, which is the word of God:
GREAT PERSONALITIES HAVE SAID ABOUT THE BIBLE
I. United states Presidents
A. George Washington (1st Pres.) "It is impossible to rightly govern the world without the bible"
B. Thomas Jefferson (3rd Pres.) "The Bible makes the best people in the world."
C. Abraham Lincoln (16th Pres.) "but for this book we could not know right from wrong. I believe the bible is the best gift God has ever given to man"
ll. World leader
Winston Churchcill "we rest with assurance upon the impregnable rock of holy Scripture"
lll. Generals
Douglas MacArthur "Believe me, Sir, never a night goes by, be l ever so tired, but l read the Word of God before l go to bed"
lV. Scientist
Sir Isaac Newton. "We account the scriptures of God to be the most sublime philosophy, l find more sure marks of authenticity in the Bible than in any profane history whatsoever."
Challenge to the believers
The successful believer is in love with the BIBLE.
He knows that in its pages, he can find all that his soul requires. It embodies the complete revelation of God to men. It meets the need of the Christian life.
Do we love it as we should?
B basic
I information
B before
L leaving the
E earth
THE PLEASURE OF THE SUCCESSFUL BELIEVER
A. The Word Has Captured His Full Affection
B. It Has Captured His Full Attention
Not only does the successful believer love the Book, but he lives out the Book daily.
SEVEN POINTS TO REMEMBER IN READING THE BIBLE
1. Read it lovingly. The Bible is the Word of my Savior to me, Psa. 119:11.
2. Read it reverently. The Bible is the Word of God, the Almighty Savior and Judge.
3. Read it prayerfully. The Bible is God's message to me, to my own heart and life.
4. Read it meditatively. Be like the psalmist he meditate on the Word of God.
5. Read it systematically. Read right through the Bible, not just selected portions.
6. Read it resolutely. I will obey that which my Father teaches me from His Book.
7. Read it daily. Not just on Sundays but every day of your life read a portion.
CONCLUSION
Make the Bible our constant guide and companion in life.
The Bible is the Word of God; it is worthy of being believed.
Breathe a prayer for the Holy Spirit to help you understand the sacred pages.
The Word of God, if neglected, will be our Judge at the last day, John 12 :48. " He that rejecteth me, and receiveth not my words, hath one that judgeth him: the word that I have spoken, the same shall judge him in the last day."
Ill. The invitation of a Pastor.
Ill. The Psalmist declares that the successful believer spends his days and his nights in the pursuit of the Book. Does the Bible fill your thoughts?
Mat 24:35 Heaven and earth shall pass away, but my words shall not pass away.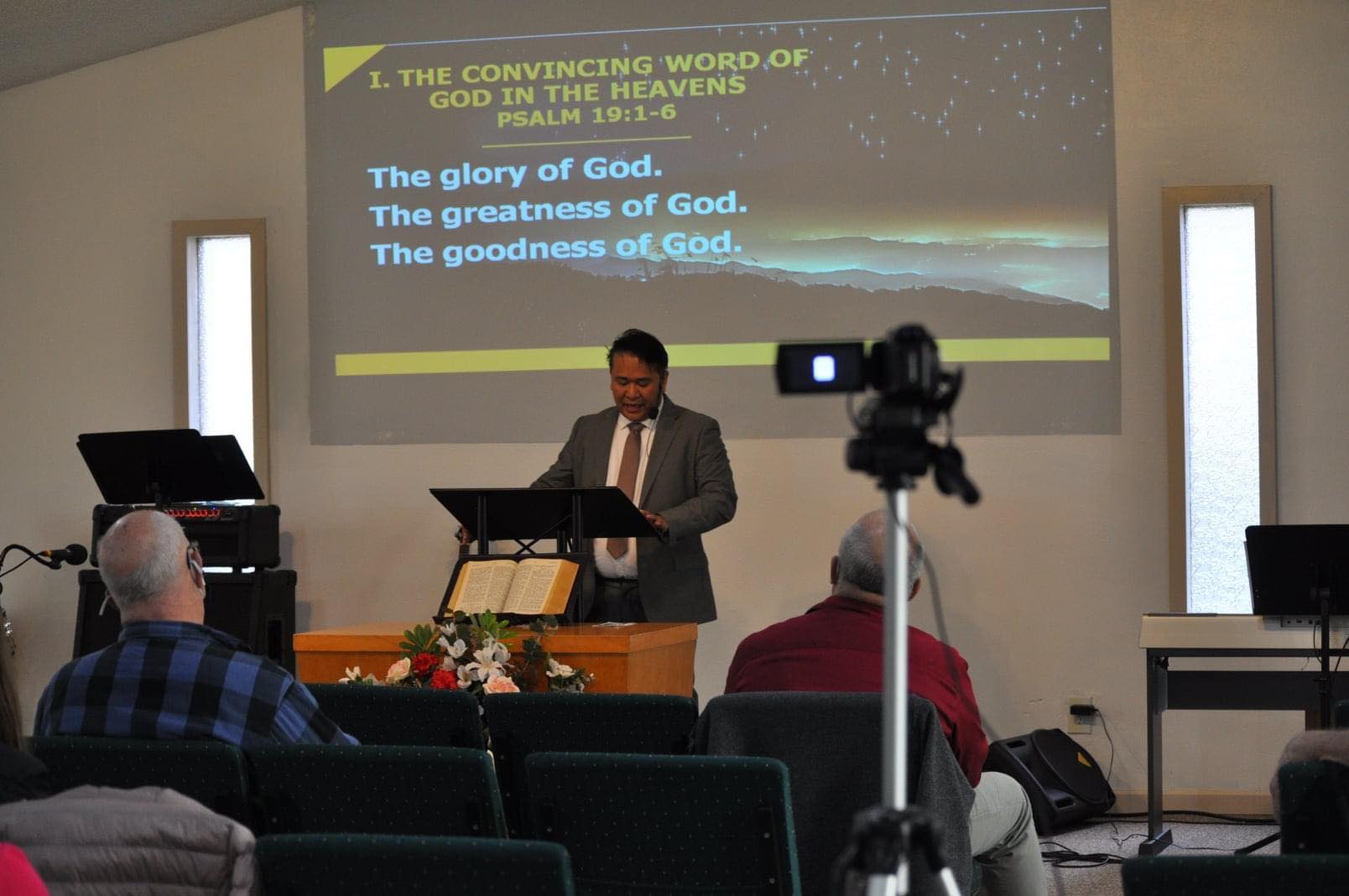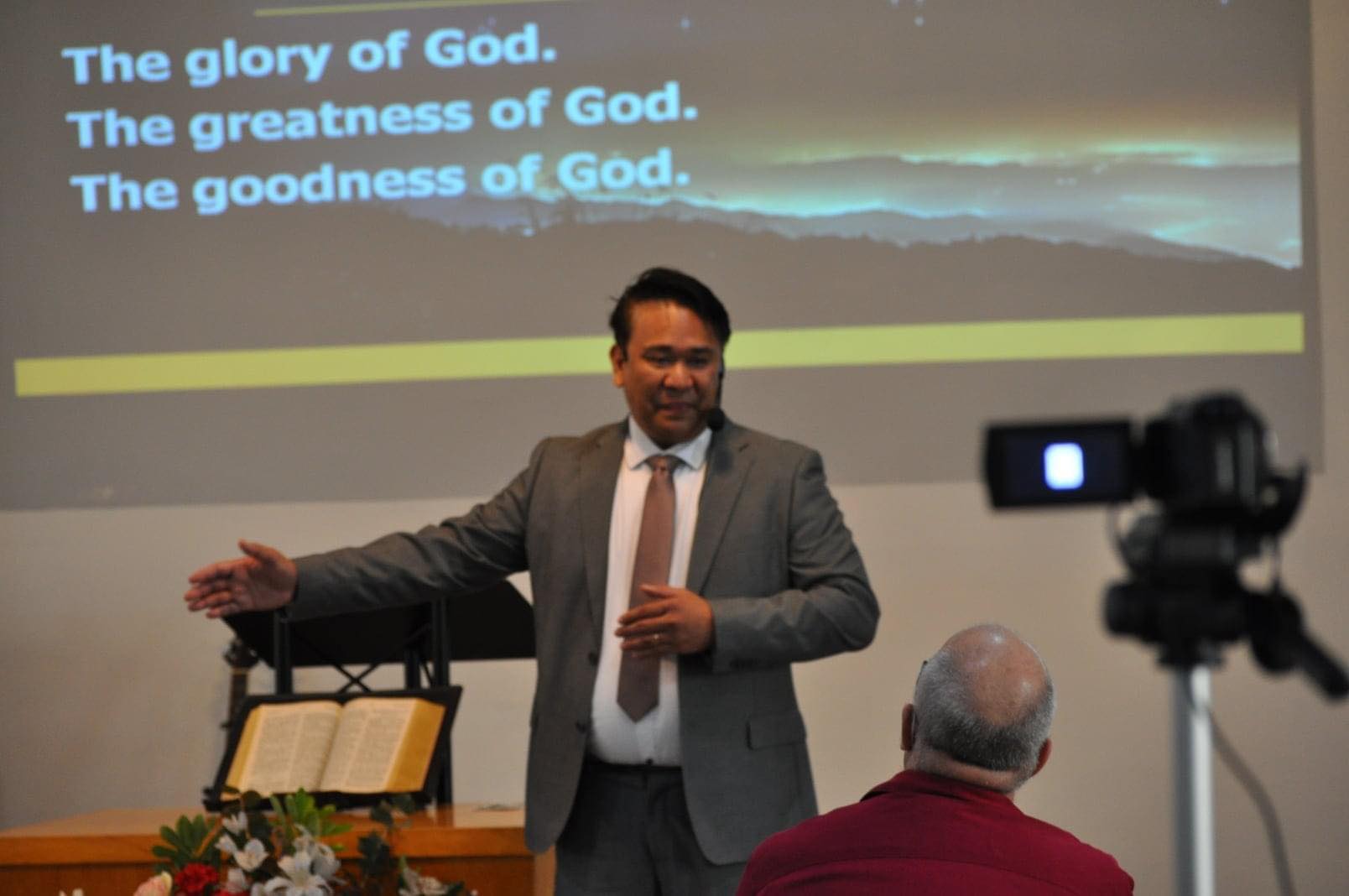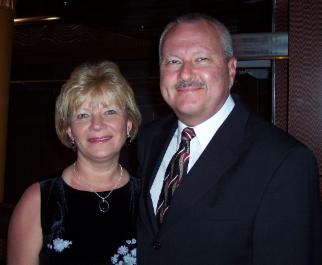 Pastor's Corner



by Pastor Doug Hiebenthal

JUNE 2020
GOD IS SOVEREIGN AND IN CHARGE OF HIS KINGDOM

GOD THE FATHER carries out his plan and the work of his Kingdom. Since God is Omniscient (All Knowing) and Omnipotent (All Powerful), he can always make the Best and Wisest choices to enhance and carry on his Kingdom work. JESUS is the head of the church (Ephesians 1:9-10, 22-23, Colossians 1:18) and has the Authority to bring to completion the Building up of His Body. THE HOLY SPIRIT works with the other members of the Trinity to accomplish the plan of the GODHEAD in each local church congregation. It is the responsibility of each church and congregation to listen to the Holy Spirit and follow his direction for their Church.

We can see in the Bible throughout the Old and New Testaments that one of God's plans for his people has been to call his leaders to do his work. When one leader is finished God begins the process of raising up another leader and the next Generation of people to replace them. All his people have to do is be FAITHFUL to listen to him by doing their part and SUBMITTING to his direction. They UNDERSTAND what God requires from his WORD for his SERVANT LEADERS. As God's people are OPEN to who GOD is raising up and REVEALING, he will be faithful and call the next leaders in his Kingdom to their work.

SOME NEXT GENERATION REPLACEMENTS AND LEADERS IN THE SCRIPTURES…

JOSHUA for the disciplined MOSES… Deuteronomy 34:5-12, Joshua 1:1-9

DAVID for the rejected SAUL… I Samuel 13:11-14, 16:10-13

ESTHER for the dethroned VASHTI… Esther 1:9-22, 2:8-17

ELISHA for the departed ELIJAH… I Kings 19:15-16, 19-21, II Kings 2:9-15

MATTHAIS for the dejected JUDAS… Acts 1:12-17, 21-26

PETER for the crucified CHRIST… John 21:15-19, Acts 10:9-47

PAUL for the persecuted SAVIOR… Acts 9:1-9, 17-31

As you study these passages of scripture and read through these chapters you will see that God is always planning and working ahead to accomplish and bring about his will through his chosen servants and his people. He is raising up the next generation of servant leaders even as he is completing his work with his past chosen servant leaders in his Kingdom. This has been his plan, because God is Sovereign and in charge of his Kingdom and he works through his people, like you and me, to get his Kingdom work done, so that his name is lifted up and he receives the Honor and Glory His name deserves.

March 2020
THE LAST COIN… LOOKING FOR TREASURE IN OUR LIFE…
I have been collecting coins for my grandchildren for 20 years. I began in 1999 when the then new state quarters from every state and territory in the US had just come out. The year of 1999 ended up being 10 years before our first grandson was even born in 2009. It takes a little while to collect the whole series because there are 56 different coins in the series over 10 years and there are "P" mint marks from the Philidelphia mint in the east and "D" mint marks from the Denver Mint in the west. After that series was complete they began the National Park series from each state and territory. Each of my 5 grandchildren receive their book for coins when they are six and can begin to read so that they can decide where each coin goes into their books.

Typically for me this is how this works. I have set aside an amount out of our monthly income that I reuse at my bank. My bank has a coin counting machine, I take my jar of coins into the bank and run it through the machine, taking the coin slip up to the teller to purchase a new supply of rolled coins which I look through for the coin treasures I need for each collection.

THIS IS A STORY ABOUT THE LAST COIN AND PERSERVERANCE…

At least three times recently I have not found anything that I can use until the very last coin… number 500. So If I had stopped before reaching the end I would not have found the treasure I was seeking.

PERSERVERANCE is doing something good or important despite difficulty or delays and finally achieving success. The Bible has much to say about perserverance. In the bible perserverance carries the idea of patient endurance which is an essential virtue for every Christian, especially those who are experiencing trials or testing. The Bible also speaks about Lost things in Luke 15: 1-32 in the Parable of the LOST COIN, LOST SHEEP and LOST SON. It also speaks about the LAST WORLD RULER, THE ANTICHRIST in II Thessalonians 2: 1-12.

BIBLICAL PRINCIPLES ABOUT PERSERCERENCE…According to Jesus own words, when we preserver in the faith, we are a noble person with a good heart for God. Luke 8:15

Suffering and Trials in our life produce and require perserverance. Romans 5:3

Continued perserverence under suffering and trials developes our character. Romans 5:4

Perserverence is a result of our love for God and other people. I Corinthians 13:7People who preserver can see fruit from their efforts and a harvest of right actions if they do not give up. Galatians 6:9

When we preserver in the Lord and God's word we will be a benefit to ourselves and other people. I Timothy 4:16

When we do God's will and preserver we will receive the promise of G and be rewarded for our strength. Hebrews 10:36

We are able to preserver in life as we trust God and look to God for our strength. Hebrews 11:27

Other people of faith can be a great example to us as we live a life of faith and perserverence. Hebrews 12:1

The testing of our faith through resisting Satan's attacks and temptations developes perserverence. James 1:3

The goal of our perserverence through testing is our maturity. James 1:4

When we preserver under trials and stand against the tests of our life we can look forward to the crown of life and God's well done. James 1:12

Like Job, we can find out what God can do and experience God's grace and mercy when we preserver. James 5:11

Patience and perserverence are virtues connected with God's plan of development of every believer. It is also and important virtue to learn and practice in every aspect of our life.

DECEMBER 2019
THE GIFTS OF GOD… BETTER THAN ANY BLACK FRIDAY SALE.
It was the end of November and I made a terrible mistake… I had to go to the bank but that day I happened to choose to go to the branch at the Clackamas Corner on the property of the Clackamas Town Center shopping Mall. Driving up, it seemed a little more crowded at first but not unusual for the end of November. There were signs out that read "flaggers on duty" and I wondered why? Once I turned into the parking lot I was trapped into what turned out to be the mass of cars and traffic that moved at slower than a crawl. Then it dawned on me, I was stuck in the BLACK FRIDAY quagmire of a bumper to bumper traffic jam in the middle of the day. My destination was on the outside of the parking but that made no difference. It took an hour to get to the bank and get back out of the parking lot. While I was waiting I had plenty of time to think, as people tried to find a place to park. This was all for the opportunity to find some savings on toys, Christmas items and holiday gifts for their families. We have been conditioned to think and believe that the day after Thanksgiving is the BEST day to shop for Christmas deals. I wish I had remembered that before I got into that mess.

SO WHAT ARE SOME OF GOD'S GREAT GIFTS AND SPECIAL DEALS FOR CHRISTIANS IN HIS SPIRITUAL WORLD?

SPIRITUAL GIFTS TO EVERY BELIEVER… Romans 12:4-8, I Corinthians 12:1, 4-6 These two scriptures and a few others, list for us 18 gifts of the Spirit… Gifts like Prophecy, Evangelism, Exhortation, Giving, Leadership, Showing Mercy, Teaching, Helps, Wisdom, Knowledge, Discernment, Faith, Pastoring, Apostleship, Miracles, Healing, Tongues and the Interpretation of Tongues. Some of these gifts were only necessary to authenticate God's Truth and the Messengers of the Gospel until the completion of the New Testament Scriptures in the first Century. Others continue today in their original form or have been adapted by the Holy Spirit to his purposes today in the Church. Every believer in Jesus has at least one of these gifts to build up the body of Christ, the church and to bless other believers.

ANSWERS TO OUR PRAYERS… Matthew 7:7-11 We receive what we ask for when we ask in God's name and character and according to his will

ETERNAL LIFE BY GRACE THROUGH FAITH… Romans 6:23, Ephesians 2:8-10 We have been saved by God's Grace through faith, it is God's gift to us ,through Jesus Christ our Savior, not by our works.

THE MERCY OF GOD IN SPITE OF OUR SINFULNESS… Romans 11:29-30a We have received God's Mercy and Salvation even though we were at one time disobedient to God.

THE BLESSING OF FAITHFUL BROTHERS AND SISTERS OF FAITH AND FAITHFULNESS… II Corinthians 9:13-15 We can be God's gift to others when we bless our bothers and sisters in Christ and serve them. In that way our service also honors God.

THE GIFT OF THE HOLY SPIRIT, OUR COUNSELOR AND GUIDE… John 16:7-8, 13-15 The Holy Spirit is our teacher and guide to show us God's ways and point us to the truth. He gives us insight as we study God's word and convicts us of our sin.

THE GIFT OF A FAITHFUL SPOUSE GRACIOUSLY GIVEN BY GOD… I Peter 3:7 When we marry in the Faith our spouse is a gracious gift of God to help as we us seek God together and walk through our life.

THE GIFT OF FORGIVNESS AND RECONCILIATION… Matthew 5:23-24 Resentment, bitterness and a lack of forgiveness will hold us in bondage but reconciliation and forgiveness can set us free and allow us to live in peace.

SEPTEMBER 2019
We just returned home from spending a week with part of our family in Central Oregon. We had a chance to relax, to swim, and play some games together. We play golf, we went on walks down by the Deschutes River and we looked for stray golf balls along the golf course. This time we found over 60 golf balls that had been lost by the golfers along the way in the weeds and in the brush. Each day we ate breakfast, lunch and dinner together.

Why is it so good to belong to a family, especially a good family that cares about each other? Why is it good to belong to God's family?

There is an older song by Bill Gather that says… I'm so glad that I'm a part, of the Family of God; I've been washed in the fountain, cleansed by his Blood. Joint heirs with Jesus as we travel this sod, for I'm part of the Family, the Family of God.

Being part of a FAMILY has some very unique PRIVILIDGES… In our family that means that you are a recipient of some of the Coins… Quarters and Dollars… that I have been collecting since 1999, for the last 20 years.

THE FAMILY OF GOD… SOME SPECIAL PRIVILEDGES…

We have Grace and Peace from God… Romans 5:1-2

We receive the Spirit of Sonship from God. Romans 8:15-17

We each have at least one Special Spiritual Gift to use in God family… I Corinthians 12:1, 7

We receive the Comfort of God in our Troubles… II Corinthians 1:3-4

We are partakers of the Holy Spirit, who is our Deposit and Guarantee. Ephesians 1:13-14

We receive the Power and Ability to do what God wants us to do… Ephesians 1:19-20, Philippians 2:13

We can pray and overcome Worry and Anxiety… Philippians 4:6-7

We have the Hope of Glory with the Lord Jesus… I Thessalonians 4:16-18

We receive Wisdom from God when we need it and ask for it… James 1:5-7

We have full Fellowship and Forgiveness from God. I John 1:3, 9

Being part of a FAMILY also has some specific RESPONSIBILITIES… In our family that means that I help take care of my Grandchildren each week … Charlene makes dinners on a regular basis.

THE FAMILY OF GOD… SOME SPECIFIC RESPONSIBILITIES…

Let God Transform our Hearts and Minds… Romans 12:1-2

Do Good to all people, especially God's family. Galatians 6:9-10

Seek the best for others, not just for ourselves… Philippians 2:3-4

Work out our Salvation with respect and care. Philippians 2:12

Be Wise and make the most of every Opportunity… Colossians 4:5-6

Study God's Word to become Proficient Believers who handle God's word well… I Timothy 2:15

Manifest Faith in everything that we say and do… Hebrews 11:6

Submit to our Church Leaders and Authorities… Hebrews 13:17

Perserver when we are under Trials and Testing… James 1:2-4

Be set apart for God, be Holy in what we say and how we live… I Peter 1:14-16

Walk in the Light and Follow the Lord… I John 1:6-7

MARCH 2019
WHAT CAN HAPPEN IN A GENERATION?
My wife's aunt died recently and she traveled with her cousin up to Seattle for the memorial service. After she came home we spent some time discussing the changes that had taken place in her family. This also brought up a discussion about some of her other relatives, her uncles and aunts and their children. While I did not know who I was going to marry when I was in the 8th grade, it turned out that in God's providence, my Sunday school teacher in Junior high was her Uncle. I had great respect for him and his Bible knowledge, especially since he had NO Bible College or Seminary education… he was completely Self-taught. So, where are his children now, almost a Generation later? The couple that Charlene rode up with to the service are still active in their church and attended almost every Sunday. I wish that I could say the same for the rest of those relatives and the ones who were part of the family whose mother died recently. In many of those cases, if they are part of a church at all, it is most likely not the kind of Bible Based, Bible Believing, Conservative and Evangelical kind of church that their parents went to and served in growing up.

SO WHAT HAPPENED IN A GENERATION?
WE HAVE SOME HELP WITH THE ANSWER TO THIS QUESTION IN THE OLD TESTIMENT FROM THE BOOK OF JUDGES... Judges 2: 10-12 "After that whole generation had been gathered to their fathers, another generation grew up, who knew neither the Lord or what he had done for Israel. Then the Israelites did evil in the eyes of the LORD and served the Baals. They forsook the LORD the God of their fathers, who had brought them out of Egypt. They followed and worshiped various gods of the peoples around them. They provoked the LORD to anger.

Apparently, ours is not the first generation, to experience children and grandchildren who have fall away from the Lord and his Word, or what it means to be followers of him.

THE BOOK OF JUDGES PROVIDES US WITH THIS OUTLINE IN CHAPTER TWO…
Judges 2:1-3… The Challenge at the end of Joshua's life and Generation.
Judges 2:6-7… The Promise of the Generation of Joshua to God.
Judges 2:8-9… Joshua now Dies and is buried.
Judges 2:10-13… The Story and Cycle of Decline and Decay in the next Generation.

THE PERIOD OF THE JUDGES LASTS FROM ABOUT 1377BC TO 1055 BC OR ABOUT 325 YEARS… In this period there are a number of significant Judges or Deliverers who save the Israelites from their Oppressors after they have fallen away from the Lord.

THE SPIRITUAL CYCLES IN JUDGES GO LIKE THIS… SERVING GOD… DECLINING INTO SIN… FORSAKING THE LORD… OPPRESING OF GODS PEOPLE BY SINFUL PEOPLE…REPENTING OF SIN… DELIVERING OF GOD'S PEOPLE BY A JUDGE GOD RAISES UP… RESTING IN GOD'S GRACE AND MERCY… SERVING GOD… THIS CYCLE REPEATS AGAIN AND AGAIN. THIS HAPPENS MANY TIMES IN THE BOOK OF JUDGES.

HERE ARE THE MOST IMPORTANT JUDGES OF THE BOOK IF YOU WANT TO READ ABOUT THEM…
OTHNIEL… JUDGES 3: 7-11
EHUD… JUDGES 3: 12-30
DEBORAH… JUDGES 4: 1-5, 14-24
JEPTHAH… JUDGES 10: 6-167, 11: 28-33
SAMSON… JUDGES 13: 1-7, 16: 23-30

A GENERATION IS ABOUT 50 YEARS IN THE BIBLE. THIS WOULD INCLUDE ALL OF THE PEOPLE LIVING ABOUT THE SAME TIME. THIS COULD INCLUDE OVERLAPPING GENERATIONS OF BETWEEN 30 TO 50 YEARS.

SO WHAT HAS HAPPENED IN AMERICA IN THIS GENERATION OF ABOUT THE LAST 50 YEARS?

We have seen the Decline or the Elimination of PRAYER and SPIRITUAL INFLUENCE in our schools… The Engle v Vitale Supreme Court decision came in 1963.We have seen an Exponential increase in ABORTIONS… The Roe v Wade Supreme Court decision came in 1973.

We have seen the Decline and then the Elimination of any CREATION taught in our schools… The Epperson v Arkansas Supreme Court decision came in 1968 and the Edwards v Aguillard Supreme Court decision came in 1987.

Today you are far more likely to hear about being LBGTQ than to hear about anything that relates to CREATION in our public schools. You will be far more likely to be challenge about global warming than to be challenged to study the Bible anywhere in our society. We are told by people in leadership that Abortion is now the MORAL thing to do.

SO WHAT CAN WE DO IN OUR GENERATION? LOOK UP THESE SCRIPTURES AND FOLLOW THEIR ADVICE AND EXHORTATIONS…
PSALM 145: 4-6… SPEAK OF GOD'S POWER AND MIGHTY ACTS TO THE NEXT GENERATION.
PSALM 24: 4-6… SEEK GOD IN YOUR GENERATION WITH CLEAN HANDS AND A PURE HEART.
PSALM 78: 6-8… TELL YOUR CHILDREN AND GRANDCHILDREN TO PUT THEIR TRUST IN GOD.

HERE IS OUR GOAL IN OUR GENERATION…
Philippians 2: 15-16… " So that you may become blameless and pure children in a crooked and depraved generation in which you shine like stars in the universe as you hold out the word of life"

DECEMBER 2018
SIX DIFFERENT KINDS OF CHRISTMAS…
SO WHAT KIND OF CHRISTMAS WILL YOU CELEBRATE THIS YEAR?
For the first time in many years, our whole Family will not be together at Christmas time. Our Portland family… Mitch, Christina, Ethan (9) and Audrey (6) will be with us at our house. However our Florida family…Jason, Colleen, Sidney (6), Madison (3) and Sadie (1) will still be in Florida. This is because Colleen, a Doctor in the Navy is preparing to go on deployment in January. We will have to spend Christmas with them on Face time. We still thank God that everyone is healthy and doing well.

This situation has made me think about that First Christmas… Let's look together at six different scriptures and ask ourselves how each of these scriptural situations might apply to us and our Christmas celebrations this year…

AN INN KEEPER KIND OF CHRISTMAS… LUKE 2: 6-7… "While they were there, the time came for the baby to be born, and she gave birth to her first born, a son, She wrapped him in cloth and placed him in a manger, because there was no room for them in the inn." NO ROOM FOR HIM… NO TIME FOR HIM… LITTLE THOUGHT ABOUT HIM.

A SHEPHERD KIND OF CHRISTMAS… LUKE 2: 15-18, 20… "When the Angels had left them and gone into Heaven, the shepherds said one to another, let's go into Bethlehem and see this thing that has happened, which the Lord has told us about. So they hurried off and found Mary and Joseph and the baby, who was lying in the manger. When they had seen Him, they spread the word concerning what had been told them about this child, and all who heard it were amazed at what the shepherds had said to them…. The shepherds returned, glorifying and praising God for all the things they had heard and seen." SPREADING THE WORD ABOUT HIM… AMAZED AT WHAT YOU KNOW ABOUT HIM… PRAISING GOD FOR WHAT YOU KNOW AND BELIEVE ABOUT HIM.

A MARY KIND OF CHRISTMAS… LUKE 2: 19… "But Mary treasured up all these things and pondered them in her heart." TREASURING WHAT YOU HAVE HEARD ABOUT HIM… PONDERING WHAT YOU HAVE EXPERIENCED WITH HIM AND IN HIM.

A WISE MEN KIND OF CHRISTMAS… MATTHEW 2: 1-2, 9-11… "After Jesus was born in Bethlehem in Judea during the time of Herod, Magi from the east came to Jerusalem and asked where is the one who has been born king of the Jews? We saw his star in the east and have come to worship him… after they heard the king, they went on their way and the star they had seen in the east when ahead of them until it stopped over the place where the child was. When they saw the star, they were overjoyed. On coming to the house, they saw the child with his mother Mary and bowed down and worshiped him. Then they opened their treasures and presented him with gifts of GOLD, and of INCENSE and of MYRRH." SEEKING THE ONE… TO WORSHIP HIM… OVERJOYED BY FINDING GRACE IN HIM… WORSHIPPING AND USING YOUR GIFTS TO BRING BLESSING TO HIM.

A HEROD KIND OF CHRISTMAS… MATTHEW 2: 3, 7-8… "When King Herod heard this he was disturbed, and all of Jerusalem with him… Then Herod called the Magi secretly and found out from them the exact time the star had appeared. He sent them to Bethlehem and said, go and make a careful search for the child. As soon as you find him, report to me so that I too many worship him." DISTURBED AND ANGRY ABOUT WHAT YOU MAY HEAR AND SEE FROM HIM… DECIEVED AND DISHONEST ABOUT YOUR INTENSIONS FOR HIM.

A JOSEPH KIND OF CHRISTMAS… MATTHEW 2: 13-15… "When they had gone, an Angel of the Lord appeared to Joseph in a dream. Get up he said take the child and his mother and escape to Egypt. Stay there until I tell you, for Herod is going to search for the child to kill him. So he got up, took the child and his mother during the night and left for Egypt where he stayed until the death of Herod. LISTENING TO GOD'S WORD AND HEARING WHAT YOU NEED TO RECEIVE FROM HIM… OBEYING AND PRACTICING WHAT YOU KNOW IS RIGHT AND GOOD FROM HIM.

SEPTEMBER 2018
A CHRISTIANS RESPONSIBILITY TO HIS COUNTRY…
When Jesus was asked this question, this was his response… Matthew 22:21 "Give to Caesar what is Caesar's and to God what is God's." This would include every aspect of the government and our life… It means Respect, Honor and Submission to those in authority, in those matters that don't clearly go against God and His Word. It would include paying our taxes on time, and voting in our elections for the policies that are submitted to us and for those who would represent us, on a State, Local and National level… OUR MID-TERM ELECTIONS ARE NOW JUST 2 MONTHS AWAY. Christians will have some interesting things to Pray about, items to Decide on, People to vote on and Issues to think about. One of them appears to be the Rise of Socialism in our country.
SOCIALISM has been defined as "a political and economic approach that advocates that ownership and income be determined and regulated by all and shared by all equally, no matter how it was earned… It is a transition state from capitalism to communism. In effect this would transfer wealth and resources from one group or person to another.
So, what does the Bible say about Wealth, Money, Work and those who are in Need?

THE BIBLE REVEALS A TENSION AND BALANCE BETWEEN INDUSTRIOUSNESS AND GENEROUSNESS.
First, lets start with WEALTH… I Timothy 6:17-19 reminds those who are wealthy by this worlds standards, to do good, to be generous and willing to help others who are in need by sharing what they have and what God has entrusted to them. Luke 16:10-13 tells God's people to be trustworthy in the use of what God has entrusted to them. Christians are to serve Him, and to use their wealth, resources and money well and not to let it control them.

Second, lets move on to NEED… The Bible has much to say on this subject. For the sake of this discussion we will simply define need as those who are physically or mentally incapable of providing for themselves.
Mark 14:7 tells us that there will always be poor people. Acts 9:36 gives us the example of Dorcus who did good and helped the poor. Acts 10:31 shows us another example of Cornelius who was a generous man. In Galatians 2:10 we are instructed to remember the poor. Even in the Old Testament we are given these instructions… In Proverbs 14:21 we see that God blesses those who help the needy. Proverbs 31:20 tell us that the women of Noble character is generous with those who are poor and needy.

Third, lets see what God says about HELPING others… Matthew 6:2-3 tells Christians that we are expected to give to those who are in need, but to do it quietly and without notice or fanfare.

Last, we want to look at our WORK… II Thessalonians 3:6-13 instructs Christians not to be idle (v.6) to make our own way (v.7) to work and labor (v.8) to be an example of hard work (v.9). Paul sums this up with his rule: If you are capable of work, you work to eat. You earn what you get (v.12) You do what is right (v.13).

Jesus was neither a Capitalist nor a Socialist… He was a Realist… For Christians the challenge and the tension has always been to use our God given wealth and resources in a Godly way for Good, to the of benefit and blessing of ourselves, our families and other people… never to harm or hurt people or to enable people to miss their opportunity to do what they can do for themselves, with God's help and His strength.
So, what is my point in offering this Pastor's Corner article at this time? Just to challenge all of us to think carefully and biblically about issues that we may face, in a World that is often influenced, confused and conflicted by less than the best Godly and Biblical values.

JUNE 2018
SPIRITUAL SURPRISES…
We are surprised all of the time, but the Bible tells us that God never is surprised… Why is that? It's because we are all human and limited, we try to anticipate what we can. However our knowledge and discernment is limited to what we know, what we can see and hear. People can fool us and people can surprise us. Some people will deceive us and even circumstances can change. All though we do our best to anticipate as much as we can, we cannot see the future and we cannot look into the hearts and minds of people or see their motives. We do not have full knowledge and understanding of any present situation, let alone the ability to see the future.

God is never surprised… Why is that? It's because God is OMNISCIENT… He knows everything perfectly. He knows what has taken place, he knows what is taking place, including the heart, thoughts, attitudes and motives of every person. He knows why we do what we do. He knows what will happen and take place in the future, without causing it or requiring it.

Here is a Biblical definition of OMNISCIENCE… God's ability to comprehend all things, things in the past, things in the present and things to come, in one moment of time. This includes all possibilities, including the range of things that could possibly happen but will not, along with their possible outcomes. This knowledge and understanding of God includes what will happen including the sequence of events and the chronological order of events.

HIS PERFECT KNOWLEDGE INCLUDES what is and what is possible. What could be as well as what actually is. It includes what will really is take place as well as what could have happened and what should have happened.

HIS PERFECT KNOWLEDGE INCLUDES the sinful actions and decisions of men and women. Even though God knows them he does not cause them, fix them, condone them or approve of them. He is not in any way responsible for them, we are. Since he knows about these sinful acts he moves in his power to limit their effects, impact and destruction in relation to his divine will and purposes.

TO GET A FULLER UNDERSTANDING ABOUT THIS, LETS LOOK AT SOME SCRIPTURES AND LEARN WHAT GOD SAYS ABOUT HIS OMNISCIENCE…
ISAIAH 46: 9-10… God knows what was, what is and what is to come.
PSALM 147: 5… God's understanding has no limits.
PSALM 33: 13-15… God sees all things and considers what we do.
PROVERBS 15: 3… God is aware and watches what we do.
PROVERBS 5: 21-23… God examines all of our paths.
ISAIAH 29: 15-16… We cannot hide our plans from God because he knows everything.
JEREMIAH 23: 24… We cannot hide in any secret places. God is everywhere.
HEBREWS 4: 13… Nothing is hidden from God and we will give an account to Him.
AMOS 9: 3-4… We cannot hide from God. He will bring judgment on evil and on sin.
PROVERBS 3: 19-24… We need to follow God's lead and be wise, following his understanding and discernment.
COLOSSIANS 1: 9-10… We need God's knowledge, we need to know his will and wisdom. This will lead us to live a life that is worthy of the Lord and a life that is fruitful for God.

Since God is never surprised, the more we seek to know him, his will and his ways, the more we seek to follow him and obey his Word the less we will be impacted and effected by the surprises in our life. When they do come our way, we will know that God can direct us into the best path that will bring the most good to the most people, including ourselves. WE SIMPLY NEED TO PRAY, TO FOLLOW GOD'S DIRECTION AND DO THE NEXT RIGHT THING. WE CAN THEN LEAVE EVERYTHING ELSE TO GOD'S WISDOM AND HIS JUSTICE.


April 2018
"THIS TOO SHALL PASS"…

As I write this, I am seated in an infusion chair at OHSU in the Knight Cancer Institute. I am in my 9th month of a Clinical Trial for a new Blood Cancer drug called NEOD001. They tell me that I am doing better and my blood counts are improving. Either God is doing this all by Himself or he has decided to use this new experimental drug. I am now six and one half years removed from the date I was diagnosed with Amyloid in 2011. This has been a Journey that has required help from other people and dependence upon God. Aside from the 2 months I was in the hospital in 2012 after my stem cell transplant I have been able to complete my church preaching and leadership responsibilities every week.

Now that I am on the other side of the valley and feeling much more like I remember I used to feel, it is harder to remember what it was like in those more difficult days. GOD DESERVES ALL OF THE CREDIT FOR THIS, he alone can take our trials and turn them into victories for His name and His glory. I am what I am and I am where I am because he willed it to be so. My health today is a tribute to God's Grace, Mercy and Strength for those who Love him and who have been called according to his purposes. Many times in the course of this process I have heard people say, "this too shall pass", well meaning people have made this statement and given this advice. THIS IS NOT A BIBLICAL STATEMENT… only a human saying from human wisdom. It may help some people endure and have some hope. But, those who have Hope in the Lord and know that he is in control see things differently and attribute any recovery that they may experience to Divine Intervention. The scripture that seems to come the closest to that human statement is…

Psalm 90:10 "The length of our days are 70 years or 80, if we have strength. Yet their span is but trouble and sorrow, for they quickly pass and we fly away".

While the statement that people make… "This too shall pass" does not come from the Bible, there are some scriptures in God's Word that can help us and give us comfort when we go through troubled times… You will want to look up the full scripture reference to understand God's complete communication to us…

Isaiah 40:28-31… "He gives strength to the weary and increases power to the weak."

Isaiah 43:2-3a… "When you pass through the waters I will be with you."

Isaiah 46:4… "I am he who will sustain you."

Romans 8:28… "God works for the good of those who love him."

Psalm 27:4-5… "In the day of trouble he will keep me safe."

Psalm 42:5… "Put your Hope in God."

Psalm 103:13-14… "As a father has compassion on his children so the Lord has compassion on those who fear him."

Psalm 119:50… "My comfort in my suffering is this, your promise renews my life."

Psalm 138:7-8… "Though I walk in the midst of trouble you preserve my life."

When God is with us, we don't need trouble or difficult circumstances to simply pass… because he is our Hope and the Strength of our Life. He gives us the help, comfort and courage we need in the trials of life because we know that our life is in his hands and we belong to Him.

If you or someone you know is going through difficulty maybe you will find help and comfort in God's words to you too.

December 2017

LIFE FROM GOD'S PERSPECTIVE

Just before Thanksgiving Charlene and I left Oregon to visit our youngest son, Jason and his family in Florida. They have recently returned to the states from 3 years overseas in Japan. We wanted to get acquainted with our newest grand daughter Sadie who is two months old and to spend some time with her sisters Sidney and Madison who are 5 and 2. To get there, we needed to fly because even at 500 miles per hour it is a 5 plus hour flight. This flight reminded me how much different things look from our cruising altitude 35,000 feet up, high above everything but the clouds.

• You can see much farther than the limited distance you can see on the ground.

• You can see much more at one glance, so you can choose the best route.

• You can see what is coming up in front of you so you can anticipate what is ahead.

• You can see all of the big and small obsticals that will be hindering your path.

• You can see that even the mountains aren't nearly as big and insurmountable as they seem on the ground.

• You can even see where the gaps and passages are to be able to pass through.

• You can see where the rivers are that you will have to negotiate, navigate or avoid.

This reminded me and caused me to reflect on the difference between man's perspective and God's. Man's view of life is limited and confined to what we can see and experience from a day to day ground level perspective. God's view of our life and the world is not limited by the time or space constraints that we experience. HE SEE'S LIFE FROM BEYOND 35,000 FEET. That is why we need to keep coming back to Him and his Word regularly for our view and perspective of life and the events in our life. We need God's views and perspectives to renew our life and give us encouragement, direction, balance, and hope.

As I was thinking through those things, God took me to Isaiah 55 to reveal that this is the way he has always designed it. He has always wanted us to depend upon him and trust him in this way. He has always wanted us to receive our perspective in life from Him. Listen to these words and invitation to the Old Testiment Jewish people and to us today… "Come all of you who are thirsty, come to the waters, and if you have no money, come and buy and eat. Come buy wine and milk without money and without cost. Why spend your money on what is not bread and labor on what does not satisfy? Listen to me and eat what is good, and your soul will delight in the richest of fare. Give ear and come to me, hear me that your soul may live." Isaiah 55: 1-3a

This invitation is to all who will seek the Lord and his perspective and direction in their life. We know this because of what God says to us next… "Seek the Lord while he may be found, call on Him while he is near. Let the wicked forsake his ways and the evil man his thoughts. Let him turn to the Lord, and he will have mercy on him, and our God for he will freely pardon." Isaiah 55: 6-7 Now, doesn't that sound like a gracious invitation from a Loving God to his confused creation? It is also a refreshing way for us to live our lives.

He does not stop there, he explains to us why we get so confused and our perspective in life is so limited… "For my thoughts are not your thoughts, neither are your ways my ways, declares the Lord. As the heavens are higher than the earth, so my ways higher than your ways and my thoughts than your thoughts." So, what seems right to us and what seems like the easiest way we should go, may actually not be the wisest, best or safest way or path that will ultimately bring about the greatest satisfaction and blessing into our life or families.THE ONLY WAY TO SEE THIS IS FROM GOD'S PERSPECTIVE FROM HEAVEN AND FROM HIS POINT OF VIEW FROM ON HIGH. HE SEES ALL THINGS IN TIME, TOGETHER AND FROM HIS PLACE HE CAN SEE WHAT WE NEED TO DO AND WHERE WE NEED TO GO TO THE GAIN THE GREATEST RESULTS FOR US AND EVERYONE THAT WE LOVE. WE ALSO ARE CERTAIN THAT GOD WANTS THE BEST FOR US AND HE IS AT WORK TO BRING THAT ABOUT IN OUR LIVES… (Romans 8:28)

NOW LET ME INVITE YOU TO APPLY WHAT WE HAVE JUST REVIEWED TO SOME PLACES WHERE WE HAVE SOMETIME OR OFTEN LOST GOD'S PERSPECTIVE…

THE WORLD AND WHAT WE SEE IN THE WORLD, INCLUDING GOVERNMENT… Read I John 2: 15-17.

OUR FAMILIES AND WHAT WE FACE IN OUR FAMILIES, INCLUDING OUR HOPE FOR THE FUTURE… Read I Peter 5: 5b-6 and Philippians 4: 6-7.

OUR HARDSHIPS AND TROUBLES IN LIFE, INCLUDING THE TRIALS THAT WE FACE… Read James 1: 2-5.

Life from God's perspective is very different… like the difference between viewing the world from ground level and from 35,000 feet. While seeing things God's way may not change the circumstances, it will help us work our way around the trouble spots, give us direction and show us the way that we should go and help us have a far better outlook on our life.

September 2017

GOD HAS OTHER PLANS… WE JUST NEED TO LISTEN TO HIM AND OBEY…
AS WE COME TO OUR CHURCHES 30TH ANNIVERSARY ON SEPTEMBER 10, 2017… WHY AM I AT THE AMERICA

FILIPINO CHRISTIAN CHURCH?
Every Christian has a story to tell or needs to have a story to tell about how God has been at work in them, and in their life… leading them, guiding them, and directing them toward his purposes.Every Christian has a story to tell or needs to have a story to tell about how God has been at work in them, and in their life… leading them, guiding them, and directing them toward his purposes.

HERE IS PART OF MY STORY… I was called into ministry while I was at Western Baptist Bible College studying to be a teacher and a coach in 1973. I had just married my wife Charlene the year before. Yet God had a change in my plans that he needed to communicate to me. He did that in an unusual but very effective way. God called me to ministry to serve him full-time as a pastor. Instead of being a teacher and teaching students in public schools I would teach God's word. Instead, of being a coach and coaching sports I would be a Spiritual life coach. After graduation we received an offer to be an Intern at a church in Chico California, which we accepted in 1975. After that was over after six months and after working at a hazelnut factory in my hometown of Dallas Oregon, we received the next step on our mission from God, as we spent the next five years in Woodland California where our two sons Mitch and Jason were born. After hearing God tell me that I needed to prepare myself for future ministry, we left Woodland in 1980 for West Linn Oregon and ministry back in our home state where I could go to seminary and our sons could get to know their grandparents. In 1985 after our Senior Pastor left for ministry on the east coast and I had the responsibility of leading the church for a time, I sensed God's call to leave Christian Education and Youth Ministry for a ministry of preaching and leading a church as a Senior Pastor. God called us to our first Senior Pastoral and Preaching ministry in 1985 in Springfield Oregon. After 17 years there, a building program and a Doctor of Ministry degree, it was time for God to show us our next challenge in his harvest field. In 2002, I came to Milwaukie Oregon to help lead a church that need to change, to reach out to its community and to discover the importance of prayer.

In January of 2008 I heard the challenge of God to use my training and education to help prepare Pastors for ministry outside of America. I began to pursue an opportunity to teach at a bible college in Eastern Europe. However God had other plans, as he closed that door. As I prayed about God's next steps, God opened another door, as I received an invitation to come and teach for 3 weeks in July at CBS Asia by Pastor Nicky Joya. While I was there I got to know these wonderful Pastors and spend time with them, I learned to love the Filipino people, and my heart went out to these pastors, as I found out that they make an average of only $50.00 a month in salary for their hard ministry. I was rich by comparison. Before I left the Philippines I had breakfast with Pastor Nicky and Pastor Luis Pantoja Jr . , the director of churches in Manilla and they both challenged me to consider continuing ministry with the Filipino people. Since I already had a church to pastor, I assumed that this meant being open to help start a ministry to Filipino's in the Portland area. ONCE AGAIN GOD HAD OTHER PLANS, he had just not revealed them to me yet. In November of 2008 I help co-lead a trip to the Holy Land in Israel for ten days, while I was there God began to speak into my heart again. This time what he said to me surprised me… he released me from the normal, ordinary, traditional American church. I did not know what that meant, but I knew that in God's time he would reveal it to me, if I would be obedient to him. In February of 2009 I met with the Elders of our church and challenged them to move forward by Faith, and take the next step in the process of helping to develop our church for Christ… as they resisted this, rather than split the church, I decided to resign. August 30, 2009 was my last Sunday there. I prayed and waited upon God for his direction and his next steps.

One of the members of our Prayer Team at the church in Milwaukie was a lady named Gloria, she "happened" to work with Rosa Berry at a company in Milwaukie. In God's timing it just "happened" that this church in Portland was without a pastor and in need of someone to preach for a few Sundays. My next call in February of 2010 was from Patrick Berry the husband of Rosa asking me to meet him and take a tour of the church. Would I be willing to do some pulpit supply for a few weeks? The Church was the American Filipino Christian Church on Stark Street in Portland. After three weeks he asked if I would ever consider being the pastor at AFCC? Well, this was the open door that God had prepared me for a year before and had revealed to me that I should take in November of last year… How could I say NO, I had to be obedient to God leading and direction… so we said yes. I became the pastor and accepted the call to AFCC in March of 2010. God has been good to us ever since, even when I got a Septic infection and almost died in Christmas of 2011, he was good when I had a stroke and almost died in January of 2012, he was still good when I was diagnosed with Amyliod, a blood cancer in January of 2012. This church has walked with me through my Chemotherapy, my stem cell transplant, my continued treatments over the last five years and now my new clinical trial drug… NEOD1. God is still good, and the Doctors tell me that my heart condition is 30% better than it was last year at this time. Either, I am getting the real drug (a 50%chance) and it is working or God is doing it all by himself without any help from the medication at all. Our church has been gracious, loving, patient and forgiving but if you know the Filipino people you know that is what they do, and who they are… especially with God's Holy Spirit in them.

SOME OLD TESTAMENT AND NEW TESTAMENT EXAMPLES OF PEOPLE WHO HAD A STORY OF HOW GOD CALLED, DIRECTED, THEM AND LED THEM IN THEIR LIFE… THESE ARE THE PEOPLE WHO GOD CALLED, AS HE HAD OTHER PLANS FOR THEM…

ABRAHAM… GENESIS 12: 1-5
MOSES… EXODUS 3: 1-10
JOSHUA… JOSHUA 1: 1-7
DEBORAH… JUDGES 4: 4-10
GIDEON… JUDGES 6: 11-16
RUTH… RUTH 1: 3-18
SAMUEL… I SAMUEL 3: 1-11
DAVID… 1 SAMUEL 16: 1-13
NEHEMIAH… NEHEMIAH 1: 1-11
ESTHER… ESTHER 2: 1-17
ISAIAH… ISAIAH 6: 1-10
DANIEL… DANIEL 1: 1-17
PETER… MATTHEW 4: 18-20
JOHN… MATTHEW 4: 21-22
JOHN THE BAPTIST… LUKE 3: 1-6
PAUL… ACTS 9: 1-12

As you read these stories and as God writes your story, maybe you will be able to add your name to the LIST OF THE FAITHFUL WHO FOLLOWED GOD.

June 2017

JOINING GOD IN HIS WORK
How do we know what God wants us to do and how he wants us to serve him?

This is the question that came up recently as I had two new opportunities for ministry that came up that I would need to add to my schedule this year. One was a Vacation Bible School for children and the other was a WINGS women's leadership training… So how do we answer questions like that about ministry or other opportunities that may present themselves to us? Do we say yes to the opportunities and to God or do we avoid them? Let's put this question another way… How do we know what God wants us to do and how he wants us to serve him in his Kingdom?

HERE ARE SOME THINGS THAT SHOULD HELP US MAKE THOSE DECISIONS. WE FOLLOW THE PATTERN OF JESUS TO DO GOD'S WORK…
John 5:19-20, 30 "… I tell you the truth, the Son can do nothing by himself; he can do only what he see's his Father doing, because whatever the Father does the Son also does. For the Father loves the Son and shows him all he does. Yes, to your amazement he will show him even greater things than these… By myself I can do nothing; I judge only as I hear, and my judgment is just, for I seek not to please myself but him who sent me. John 7:16-17 "… My teaching is not my own. It comes from him who sent me. If anyone chooses to do God's will he will find out whether my teaching comes from God or whether I speak on my own." John 14:10 "Don't you believe that I am in the father and the father is in me? The words I say to you are not just my own. Rather, it is the Father, living in me, who is doing his work." WE LOOK AROUND KEEPING OUR EYES AND EARS OPEN TO SEE WHAT GOD IS DOING AROUND US, AND HOW GOD IS AT WORK. THEN, WHEN WE SEE THINGS THAT ONLY GOD COULD DO WE JOIN HIM IN HIS WORK.

SOME KEY PRINCIPLES ABOUT JOINING GOD IN HIS WORK (Taken from Experiencing God by Henry and Richard Blackaby)
• Joining God in his work will lead us to a crisis of faith… We will need to step out in obedience, by faith, into a new God determined assignment.

• Joining God in his work will mean that we will have to make adjustments… Change our thinking, adjust our schedules and follow God's new direction.

• Joining God in his work will mean that we will become dependent upon God for his help, strength, and direction … Moment by moment.

• Joining God in his work will mean that we can't stay where we are or have been in the past and still go with God… We will need to move forward with God in obedience.

Some examples of this form the scriptures…

NOAH could not continue his life as usual and build an ark at the same time. (Genesis 6)

ABRAHAM could not stay in Ur or Haran and father a great nation (Genesis 12:1-8)

MOSES could not stay in the desert herding sheep and yet lead God's people at the same time. (Exodus 3)

RAHAB could not obey the king of Jericho and save the lives of the spies. (Joshua 2:1-24)

RUTH could not remain with her relatives and join God's people in Israel. (Ruth 1:16-18)

DAVID had to leave his sheep to fight goliath and become king of Israel. (I Samuel 16:1-13)

JONAH had to leave his home to go preach to the people of Nineveh. (Jonah)

ESTHER could not remain silent and save her people from destruction. (Esther 4:14)

PETER, ANDREW, JAMES AND JOHN had to leave their nets and fishing business to follow Jesus. (Matthew 9:9)

MATTHEW had to leave his lucrative tax-collecting job to follow Jesus. (Matthew 9:9)

PAUL/SAUL had to completely change directions in order that God could use him. (Acts 9:1-19)

Enormous changes and adjustments will be required whenever God's people determine to obey his calling, step out by faith and follow him.

HOW ABOUT YOU… WHAT IS GOD ASKING YOU TO DO FOR HIM? HOW IS GOD ASKING YOU TO SERVE HIM? ……. WILL YOU JOIN HIM IN HIS WORK?

March 2017

LIVING IN A WORLD WHERE PEOPLE DISAGREE

Have you noticed how much division and disagreement there is all around you and in our country? Spouses can't get along and so they file for divorce. Family's bicker and fight as brothers and sisters argue over everything from politics to inheritances. At school and at work there are those who are in the "in" crowd and those who are on the "outside". We even struggle when we drive our cars on the road. Right now our country is divided between the "Red" states and the "Blue' states, the conservatives and the liberals. Unfortunately, this has even spilled over into the church. THE QUESTION IS THIS… CAN WE DISAGREE AND STILL TREAT EACH OTHER WITH CIVILITY, RESPECT AND GRACE?

HERE IS WHAT GOD'S WORD SAYS ON THIS SUBJECT…

GOD'S INSTRUCTIONS TO CHRISTIANS IN A WORLD OF CONFLICTS AND DISAGREEMENTS…

KINDNESS IS OUR STANDARD. (Ephesians 4:32) "Be kind and compassionate to one another, forgiving each other, just as in Christ God forgave you." We may not agree but with the help of the Holy Spirit we can be kind and respectful. Even if someone offends us we can extend forgiveness.

SPEAK WHAT IS TRUE BUT DO IT WITH LOVE. (Ephesians 4:15) "Instead, speaking the truth in love we will in all things grow up into him who is the Head, that is Christ." Our goal is to be like Jesus to do that we need to do and be careful to only say what is true, in love. For that to happen we need to know what is true and what is false, again the Holy Spirit is our guide.

WHEN YOU GET ANGRY DON'T SIN OR LET ANGER GO. (Ephesians 4:26-27) "In your anger do not sin. Do not let the sun go down while you are still angry, and do not give the devil a foothold." Even though people may make us mad, we can't afford to let that linger, because if we do we give the devil the ground to harass us to become bitter… not better.

BE CAREFUL ABOUT WHAT YOU SAY AND HOW YOU SAY IT. (EPHESIANS 4:29, 31) "Do not let any unwholesome talk come out of your mouths but only what is helpful for building others up according to their needs, that it may benefit those who listen. " Get rid of all bitterness, rage and anger, brawling and slander along with every form of malice." Christians can't use harsh words or actions and think that they are anything like Jesus. Even passive aggressive behaviors like ignoring or avoiding others is nothing like the Lord.

USE WISDOM WHEN YOU SPEAK. (Colossians 4:5-6) "Be wise in the way you act toward outsiders, make the most of every opportunity. Let your conversation always be full of grace, seasoned with salt, so that you may know how to answer everyone." Again, if we need wisdom we need to ask God who will give it to us as we listen and obey the Holy Spirit.

PRAYER WILL GUIDE US AND HELP US SORT THINGS OUT, INCLUDING OUR FELINGS. (Ephesians 6:18) "Pray in the Spirit on all occasions with all kinds of prayers and requests. With this in mind, be alert and keep on praying for all the saints." Prayer is the key to calm our selves, seek guidance from God and to know what our next steps should be. Remember this verse is given in the context of spiritual warfare.

THE GOAL FOR EVERY CHRISTIAN IS TO LIVE AND ACT WITH SPIRITUAL MATURITY. (Ephesians 4:13) " Until we all reach unity in the faith and the knowledge of the Son of God and become mature, attaining the whole measure of the fullness of Christ." As we grow and mature in Christ we will become better at knowing how to act and live with people who we may have conflicts and disagreements with. Until we do, we will need to humble our selves and seek forgiveness from God and others.

REMEMBER GRUDGES AND BITTERNESS CAN DESTROY YOU. (Hebrews 12:15) "See to it that no one misses the grace of God and no bitter root grows up to cause trouble to defile many." We will choose if we will allow bitterness to gain control of our life or if we will allow the Holy Spirit to have control and make us better people.

December 2016

JUST LIKE DAD…

When you were a child did you want to be like your father? That probably depends upon if your dad was good, kind and loving or if your dad was mean, abusive or distant. How your dad lived and acted will likely determine your desire to grow up and be like him or to be nothing like him.

Now lets consider our Heavenly father. As followers of Christ, the Son of God, we all want to be like Him, but what does that really mean. As we think about that, we begin with the attributes of God. An attribute is a quality or characteristic that is true about someone... So let me ask you to close your eyes and think about this… What are some of your best attributes? Now, what are some attributes that you have, that you would prefer not to have?

Why would we want to think about God's attributes? Because it gives us a better understanding and picture of who God is and why he acts the way he does in the world… Bible students and Biblical theologians have searched the scriptures and studied the bible, as they have they have developed an understanding and doctrinal list of the attributes of God. They found that …

THERE ARE SOME ATTRIBUTES THAT ARE ONLY PART OF HIS CHARACTER, THEY ARE PEFECTIONS THAT ARE UNIQUE TO HIM. WE CANNOT POSSES THEM, THEY ARE DIFFERENT FROM OURS. FOR EXAMPLE…

Eternality… he has no beginning or end. Isaiah 44:6

Omnipotence… he is all-powerful. Jeremiah 32:17

Omniscience… he is all-knowing. Psalm 147:5

Omnipresent… he is everywhere at once. Proverbs 15:3

Immutable… he never changes. James 1:17

THERE ARE SOME OF GOD'S ATTRIBUTES THAT ARE QUALITIES THAT WE CAN POSSESS IN A MORE LIMITED WAY BUT NOT TO THE LEVEL OF PREFECTION THAT GOD DOES…

Holiness… he is pure and perfect, separate from sin and evil.Revelation 4:8

Righteousness… he does what is right and also does no wrong. Psalm 119:137

Justice… he always does what is fair with righteous standards.Psalm 89:14

Love… he is the author and giver of all affection. I John 4:16, 19

Mercy…he is good, patient, and compassionate to all.Ephesians 2:4-5

Truthfulness… he is completely truthful and cannot lie. John 14:6

Wisdom… he knows what is best and can guides us to it. Proverbs 2:6

As you think about being just like your Heavenly father remember these words from Paul… Romans 8: 14-16 " because those who are led by the Spirit of God are sons of God. For you did not receive a spirit that makes you a slave to fear but you received the Spirit of Sonship, and by him we cry ABBA Father. The spirit himself testifies with our spirits that we are God's children. So let me ask you again, do you ant to be just like your Dad?

September 2016

GETTING WHAT'S UP THERE DOWN HERE…

This is how we should pray: Our Father in Heaven, hollowed is your name, your kingdom come your will be done on earth as it is in Heaven." Matthew 6:9-10

It is clear from these two verses that God wants his kingdom and will to be established in Heaven but he also wants it to be done on earth as well. So, how do we get what's up there down here? How do we help God transfer his Kingdom in Heaven to earth right now? First, we acknowledge God's Holiness (V.9) He is perfect and completely righteous. He wants what is right and good for each of us and for everyone who is on the earth. If we follow him, we will want that kind of world too. His Holiness and his will need to be done right now. His word needs to be obeyed today. Second, we trust that God has a kingdom (V.10) We trust him, even though we can't see it at work in the world very often today. We decide to help him bring that Kingdom about, even when it's hard and it may seem to make only a small difference or dent in Satan's kingdom of darkness. Third, we accept that God has will(V.10) He has a will for each of us and for our world. It's that will that we need to seek, learn, and know. After we do, we need to follow that will, practice it our selves and then model it to our friends, family and in our communities. Fourth, we pray for that kingdom (v.10)We pray that his kingdom will come and take up residence on earth and in the hearts of men, women and children here on earth. We are not just praying for the future during the Millennium but here and now while we live and serve God here on the earth in our lifetime, today. Fifth, we work toward God's Kingdom (V.10) We do this by doing his will and following is ways today.

SO HOW DO WE GO ABOUT GETTING A LITTLE BIT OF HEAVEN (WHAT'S ALREADY UP THERE) DOWN HERE (ON EARTH)?
In the dark corners of our world we are God's light in darkness…we are God's carriers of truth and hope… we are God's blessing givers to a lost and dying world outside of Christ. What's up there… God's will starts to come down here as we transfer that will…that light… that hope and truth and those blessings down here. We become change agents for God and the kingdom of Heaven on earth. As a result this not only helps to change others, it actually changes us and grows us up in the Lord. This all happens when we pray and then follow that up by doing God's will. When we…

• Pray and work together rather than avoid others and spread division.

• Extend grace to others even when we think that they don't deserve it.

• Reconcile with someone rather than to stay angry and bitter.

• Love people who are hard to love rather than just ignoring them and rejecting them.

• Encourage someone rather than to let them stay dejected and discouraged.

• Spend time with our children and help them solve problems God's way, rather than to let them become overwhelmed, overburdened and feel alone.

• Share the Good News with those we know who need the Lord rather than to let them stay lost and in their sin.

• Use the opportunities that God provides to us so that the Holy Spirit can be at work in others by speaking up for him, for his word and for truth, rather that to remain silent.

I am sure that you can add to this short list as you think about this and let God speak into your heart. When we do God's will here on earth as it is done in Heaven we become God's Kingdom and the people of God here. When we are Light Shiners, God Carriers, Kingdom Prayers and Blessing Givers of Heaven here, we help God get a little of what's up there already, down here, now.

June 2016

HOW WELL DO YOU KNOW YOUR BIBLE?

Here is a Summer Quiz for your Edification… School is out for the summer for some students already and for other students it will be out for sure next week. So, lets take a quiz and see how much that you know about your bible. The answers are on the bottom so don't peek or cheat before you have made you your own choices.

#1 How many missionary journeys did the apostle Paul go on?
A… 1
B… 2
C… 3
D… 4
E… unknown

#2 How many Temples are mentioned in the Bible?
A… 1
B… 2
C… 3
D… 4
E… more

#3 Over how many years were the 66 books of the bible written?
A… 1,500
B… 2,000
C… 3,000
D… 5,000
E… less than 1,500

#4 Who has the longest recorded life in the Bible?
A… Adam
B… Seth
C… Enoch
D… Noah
E… Methuselah

#5 How many Judges gave Israel the victory during the period of the Judges?
A… 7
B… 12
C… 10
D… 5
E… None of these

#6 Beside King David, who wrote the most Psalms?
A… Asaph
B… Ethan
C… Sons of Korah
D… Moses
E… Solomon

#7 Which of the Minor Prophets was instructed by God to marry a prostitute?
A… Amos
B… Micah
C… Hosea
D… Jonah
E… Joel

#8 Which of these Old Testament books describes the suffering of God's servant?
A… Isaiah
B… Exodus
C… I Kings
D… Ezra
E… Job

#9 Which of the gospel writers records the seven "I AM's"?
A… Matthew
B… Mark
C… Luke
D… John
E… None of them

#10 Which of the Gospels records the seven miracles?
A… Matthew
B… Mark
C… Luke
D… John
E… None record just seven

#11 The book of Acts records the beginnings of …?
A… The Holy Spirit
B… The Church
C… Missions
D… The Apostles
E… All of these

#12 How many of Paul's New Testament books were written while he was in Prison?
A… 3
B… 1
C… 5
D… 2
E… 4

#13 Which of the New Testament books was written to a slave owner?
A… Titus
B… Philemon
C… James
D… Jude
E… Timothy

#14 How many of the New Testament books were written to Pastors?
A… 6
B… 1
C… 4
D… 2
E… 3

#15 Which New Testament book was written to address church conflicts and questions?
A… Hebrews
B… I Corinthians
C… Romans
D… II John
E… Jude

#16 How many of the New Testament books directly address the topic of the end times?
A… 5
B… 3
C… 7
D… 4
E… 6

#17 The last book of the Bible was written about when?
A… 60AD
B… 90AD
C… 80AD
D… 120AD
E… 200AD

#18 Which of the New Testament books speaks about the "Inspiration of the Scriptures"?
A… Hebrews
B… Romans
C… I John
D… II Timothy
E… Acts

THE ANSWERS…
#1… D
#2… D
#3… A
#4… E
#5… B
#6… A
#7… C
#8… E
#9… D
#10… D
#11… E
#12… C
#13… B
#14… E
#15… B
#16… C
#17… B
#18… D

March 2016

GOD IS GOOD… ALL THE TIME

These are the words to a popular Christian chorus from a few years ago, I was reminded about this when I read an article by John Piper, a few days ago. In his article he describes how God takes pleasure in doing good for those who's hope is in him. One of the attributes or perfections of God is his GOODNESS. God's goodness means that he does what is best for the one he loves, which is all of his children. He chooses the best, out of all possible circumstances, to accomplish his purposes in us and to bring about our good. Over and over throughout the Bible the writers talk about God's goodness. "Good and upright is the Lord, therefore he instructs sinners in his ways. He guides the humble in what is right and teaches them his way. All the ways of the Lord are loving and faithful for those who keep the demands of his covenant." (Psalm 25: 8-10) The book of James also speaks about God's goodness…"Every good and perfect gift is from above, coming down from the Father of the heavenly lights, who does not change like shifting shadows." (James 1:17)

Jeremiah reminds us just how good God is to his children and those who follow him. "I will give them singleness of heart and action so that they will always fear me for their own good and the good of their children after them… I will never stop doing good to them, and will inspire them to fear me, so that they will never turn away from me. I will rejoice in doing them good…(Jeremiah 32: 39-41) But you might say, I thought that this was written to Israel. While that is true, we cannot escape the additional truth that this "everlasting covenant" describes the new covenant spoken of one chapter earlier in Jeremiah 31: 31-34. " This is the covenant I will make with the house of Israel… I will put my law in their minds and write it on their hearts. I will be their God and they will be my people… No longer will a man teach his neighbor or his brother 'know the Lord' because they will all know me… for I will forgive their wickedness and remember their sins no more." While these verses were written first to the house of Israel they are also written to those of us who are part of the "new covenant" through our faith and belief in Jesus Christ. The benefit of this "New Covenant" extends to all those who are part of God's family through Jesus' sacrifice on the cross. (see Ephesians 3:6) Now let me remind you…

GOD WILL NOT TURN AWAY FROM DOING YOU GOOD…
He works for the good of those who love him and are called according to his purposes (Romans 8:28). He even works in us to give us the desire and the ability to do what he wants. (Philippians 2:13)

GOD REJOICES TO DO GOOD FOR US…
God is always on the look out because he is seeking to strengthen those whose hearts are fully committed to him (II Chronicles 16:9). He wants to bless us (Ephesians 1:3), show us mercy (I Peter 2:10), supply our needs (Philippines 4:19), and through prayer give us peace (Philippians 4:6-7).

GOD DOES GOOD WITH ALL HIS HEART…
He does this good to us and in us with every fiber of his being. He constantly is thinking of ways to help us, encourage us and show us his benefits. With all he has and with all he is, he desires to express his love and grace to us. This all began the moment that we gave our heart and life to him, as our Savior. There was rejoicing in heaven (Luke 15:7, 10). This rejoicing over us continues as we find our peace and safety in him (Psalm 4:6-8), when we seek him in prayer (John 16:24) and as we find our hope in him (Romans 15:3). You see, we cannot escape God's goodness to us at all times and in every way…. So stop and think for a moment. How has God been good to you and your family? What are the good things that God has given to you, that you need to thank God for?

SINCE GOD HAS BEEN GOOD AND DONE SO MUCH GOOD TO US, HOW SHOULD WE RESPOND?
• As we have opportunity let us do good to others. (Galatians 6:10) • Let us seek the good of others, specially hose who are weak. (I Corinthians 10: 23-24)• Let us overcome evil with good. (Romans 12:21) • Let us fulfill God's plan to do what's good in the world. (Ephesians 2:10) • Let us bear the fruit of good works and be worthy of the Lord. (Colossians 1:10) • Let us hold onto what is good and right without letting go. (I Thessalonians 5:21) • Let us fight the good fight of Faith. (I Timothy 6:12) • Let us study scripture to be approved by God for every good work. (II Timothy 3: 16-17) • Let us love what is good, be self controlled and disciplined. (Titus 1:8) • Let us learn to distinguish the good from the evil. (Hebrews 5:14)

WE CAN COME TO ONLY ONE UNALTERABLE CONCLUSION… GOD IS GOOD… ALL THE TIME.

December 2015

THE GIVER OF EVERY GOOD GIFT…

We give gifts on special occasions, times like birthday's, anniversaries, at weddings, at the birth of babies and at Christmas. We also give gifts to say "thank you" and some times we give gifts when we have no reason at all, it is "just because". One of our daughters in law's family also gives gifts at Thanksgiving and Hanukkah.

GOD GIVES GIFTS BECAUSE THAT IS PART OF WHO HE IS…
The bible tells us that God gives gifts because of his Grace. "The word became flesh and lived for a while among us. We have seen his glory, the glory of the one and only Son who came from the father… From the fullness of his Grace we have received one blessing (gift) after another. (John 1:14,16)

GOD HAS GIVEN MANY AMAZING GIFTS TO US…
* The gift of Salvation. (John 4:10) * The gift of the Holy Spirit. (Acts 1:4-5) * The gift of righteousness. (Romans 4:4-5) * The gift of Eternal life. (Romans 6:23) * The gifts of the Spirit. (Romans 6:6-8) * The gift of God's Grace. (Ephesians 2:8-9) * The gift of a wonderful spouse. (I Peter 3:7) So, let me ask you, how many of these great and gracious gifts have you experienced in your life? GOD HAS GIVEN US GIFTS OF GRACE THAT WE CAN GIVE TO "ONE ANOTHER"… • The gift of Devotion. (Romans 12:10) • The gift of Honor. (Romans 12:10) • The gift of Acceptance. (Romans 15:7) • The gift of Instruction (advice). (Romans 15:14) • The gift of Service. (Galatians 5:13) • The gift of Trust (submission) (Ephesians 5:21) • The gift of Encouragement. (I Thessalonians 5:11) • The gift of Prayer. (II Thessalonians 1:11) • The gift of Love. (I Peter 4:8) • The gift of Hospitality (friendship). (I Peter 4:9)

So, let me ask you again, how many of these ten gifts of Grace, do you practice regularly with other Christians?

God is the author and source of all gifts. He is the reason that we have the resources and the reason to give. He is the reason that we give gifts to others. "Every good and perfect gift is from above, coming down from the Father of heavenly lights, who does not change like shifting shadows. (James 1:17)

THANKS BE TO GOD FOR HIS INDESCRIBABLE GIFTS

September 2015

"Being there at the beginning"

Have you ever been around for the beginning of something? … I have, I was there when Charlene and I started our family and Mitch was born in Woodland California. I was there when we began our first ministry in as summer interns for middle school students at Grace Baptist church in Chico California. What are some other firsts that people experience? Your first job… your first paycheck… your first car… your first home… your first child and the first person that you have the privilege to lead to faith in Christ.

What are some of the Beginnings in the Bible?
Adam and Eve… The Beginning of the human race. (Genesis 2:7, 20-22)
Abraham and Sarah… The Beginning of the Jewish nation (God's chosen people). (Genesis 12: 4-5) Moses and Aaron… The Beginning of the journey to the promised land. (Exodus 6:13) Joshua and Caleb… The Beginning of the conquest of the land. (Joshua 1:1-3, 14:6-9) Daniel, Shadrach, Meshach & Abednego… The beginning of the remnant in captivity. (Daniel 1:6-7) Nehemiah, Zerubbabel and Ezra… The Beginning of the rebuilding of the Jerusalem wall. (Nehemiah 2:4-5, 7:6-7, 8:1-2) Peter, Andrew, Philip & Nathaniel… The Beginning of the disciples. (John 1:40-45) Peter, John and Paul… The Beginning of the Church. (Acts 2:14, 4:1-2, 9:17-20)

WHY IS BEING PART OF THE BEGINNING SO IMPORTANT?
• Because you know that God is calling you to do something special and unique. • Because you have an opportunity to establish something fresh and new or change the past. • Because you may have a chance to do something that may not be repeated again. • Because you know that your sacrifice can make a difference for others, for eternity and for God's kingdom. • Because you know that you may be able to change the course of a person, a family or a whole group of people. • Because you will be able to leave a path for others to follow and be blessed. • Because you have the opportunity to leave a lasting legacy for future generations. • Because you can do something of significance for the Glory of God.

THE BEGINNING OF OUR CHURCH
The American Filipino Christian Church began 28 years ago. This September we celebrate the 28th anniversary of the Beginning of our church. We celebrated this year with the dedication of our new ministry building in March… The Hope Activity Center. We celebrated with the beginning of a new children's Sunday School class for elementary children in grades 1-3.

WE CELEBRATE BY LISTING THOSE FOLKS WHO WERE THERE AT THE BEGINNING OF OUR CHURCH…
Red and Connie Arcaya/ Rudy and Adelfa Chapman/ Grace Directo/ Mike Garcia /Vern and Elsie Harrington/ Lolita Moe/ Ruel and Eve Navarro /Don and Angel Neil/ Mike Padaca/ Doug and Jane/ Steve and Sharon. These were the folks that were our first Elders, Deacons, Worship Leaders, Leaders and Treasurer. Two of these men (Steve and Doug) went on to be pastors in other churches. One man (Ruel) started our west side daughter Church in Beaverton OR, Grace International Church.

WHEN YOU ARE AT THE BEGINNING AND GOD IS IN IT… GOOD THINGS CAN HAPPEN.

June 2015

"DOING GOD'S WILL… TURNING HIS DESIRES INTO REALITY"

I normally would have written a pastor's corner for March but I was busy helping our church complete the building of our Hope Activity Center a 2,400 sq ft multi-purpose and education building on our church property. We began this 3 ½ year, build it ourselves project, by raising funds for the building in October of 2011. We hoped to raise $50,000 in 2 years through over and above commitments and outside giving. By January of 2012 we had some plans drawn. However, we did not break ground until June of 2013 (17 months after the drawings). Almost 2 years later our building was complete and we were ready to move in. Our dedication was Sunday March 15, 2015. The building cost us about $85,000.00 and is debt free. This illustrates the great providence and provision of God. It shows how God communicates his will to people and then moves them to accomplish his work.

THE SEVEN D'S OR STEPS OF DOING GOD'S WILL

Each of these taken from the life and work of Nehemiah illustrate these principles through his life and work in building the walls of Jerusalem after the Jewish captivity and exile in Babylon.

DETERMING IF IT'S REALLY GOD'S WILL... Not everything that we want to do is really God's will for us; some things are just our desires, our hopes and our dreams. So how do we decide what is from Him and what is not? Hint: God never speaks or directs us contrary to his revealed will in the Bible. (Nehemiah 1:3-4, 11, 2:1-6)

DEVELOPING PLANS TO MEET GOD'S DESIRED GOAL… Once we have determined that our desire is really from God then we need to develop a plan to get there. (Nehemiah 2:11-18)

DEPENDING UPON GOD TO PROVIDE WHAT IS NEEDED WHEN IT IS NEEDED… A plan is not enough; we still need resources, finances and help to accomplish his assignment. (Nehemiah 2:7-9)

DELIVERING ON OUR COMMITMENT BY BEGINNING THE WORK… We need to start, someplace. No work for God ever happens without stepping out by faith and beginning the work. (Nehemiah 3:1-32)

DEDICATING OURSELVES TO PERSERVER AND COMPLETE THE WORK… Most works for God take time, effort and patience to complete. There may be delays or gaps in time that we need to preserve through.(Nehemiah 4:1-15)

DEFEATING THE ROADBLOOCKS AND THE HINDERENCES THAT WOULD DERAIL US… Satan and other people can oppose us. People can and will criticize us. Some will start with us and not finish. (Nehemiah 4:16-23, 6:15-16)

DECLARING THE PRAISE OF THE ONE WHO MADE IT ALL HAPPEN… When we finish we know that it was God who took us to the end, so we need to celebrate his greatness, his goodness and his awesome power at work in us. (Nehemiah 12:27-43)

December 2014

"MAKING EVERY DAY COUNT"

On my desk in my office is a picture taken last summer, of one of our leaders with my wife and me before one of our church's fellowship dinners. It's on my desk to remind me about the shortness of life and the need that we have to live every day for the LORD. Last month, this wonder lady and leader died to be with Jesus in a terrible car accident. Our church is still trying to recover and fill the holes in the ministries that she left behind.

Last week, I visited one of our men in the rehabilitation center of the hospital after a stroke he had. We thank the LORD that he is making progress, doing better every day and soon will be able to go home for Christmas.

Another of our younger men, with a family, will soon find out if it is confirmed that he has a debilitating physical disease that will limit his future abilities and effectiveness as a provider, husband and father.

All of these situations have reminded me that we always need to live every day for the LORD, live every day like there is no tomorrow and make everyday count for God and his Kingdom.

SOME THINGS THAT WE DON'T KNOW…

We don't know how long we have to live, to love and to serve the Lord.

We don't know what tomorrow will bring.We don't know how many opportunities we will have beyond today to live our life for God's Glory.

We don't know what challenges we may face along our future life journey that will hinder our future effectiveness.

SOME THINGS THAT WE DO KNOW…

We know that the only day that we are sure of is today.

We know that God will walk with us in whatever we may face.

We know that God will give us Grace and Mercy for every trial we will face.

We know that God wants us to honor him with our life and our lips.

We know that God wants us to love him more every day that he gives us life.

We know that God wants us to love our friends, our family and fellow believers while we still have time.

We know that God wants us to seek the lost and be a witness for him as he gives us opportunities.

We know that God wants us to serve him every day.

SOME SCRIPTURES THAT WE NEED TO REMEMBER…

Ephesians 5:15-17 "Be very careful then, how you live, not as unwise but as wise, making the most of every opportunity, because the days are evil. Therefore understand what the Lord's will is… be filled with the Spirit."

Hebrews 3:13 "But encourage one another daily, as long as it is called Today, so that none of you may be hardened by sin's deceitfulness."

Galatians 6:10 "Therefore as we have opportunity, let us do good to all people, especially those who belong to the family of God."

Psalm 100:2 "Serve the Lord with gladness; come before him with joyful songs."

Psalm 139:16 "All the days ordained for me were written in your book before one of them came to be."

September 2014

"Hearts of Stone"

"Therefore say: This is what the Sovereign Lord says: I will gather you from the nations and bring you back from where you have been scattered… "I will give them an undivided heart and put a new spirit in them; I will remove from them their heart of stone and give them a heart of flesh. Then they will follow my decrees and be careful to keep my laws. They will be my people and I will be their God." Ezekiel 11:17,19-20

This scripture was a word of the Lord from Ezekiel, the prophet to the Jewish exiles, about the hope of their return to their promised land. Part of this prophecy was fulfilled in 536 BC. Another part was fulfilled when the Jewish state became a recognized nation in 1948.

Though this is a scripture directed to the Jewish people, by application it is also for the people of God, who have been grafted into their relationship with God the Father through faith. (Romans 11:13-21). If Jewish people can have hearts of stone, then so can God's covenant people (Christians). Hearts of stone don't just develop overnight. It takes a lot of deception, disobedience, and insensitivity to acquire that "stone-hearted' quality. Besides, who wants to admit to being hard hearted toward God? It's not a very noble picture. Even less desirable are the consequences of hard-heartedness. Like the Jewish nation we end up being in self imposed spiritual exile, thinking that we are something that we are not, blind to what we really are, going on with our life as comfortably and as well as we know how. We would take offense if someone ever suggested that we were approaching stone heartedness. So if you believe that you are just fine, you won't mind going down a list of what it means to be Hard Hearted…

Comfortably living with Sin in your life.

Living life based on past spiritual encounters with God or the experience of your parents and not your own.

Seeing God at work around you, yet attributing it to your good fortune.

Not ever hearing God's voice, spending time in prayer or in a bible study because you have no time or have no interest.

Getting angry or resenting God because he doesn't make your life easier, more trouble free or smooth.

Following God with your head (intellect). Knowing about God but not knowing the heart of God.

Depending on yourself and your own strength, because you want to be self made and do it yourself.

Neglecting to respond when you hear the "still small voice of God' as he speaks to you about what you need to do or change in your life.

Becoming hears of the Word but not doers·

Serving yourself and seeking your desires but not serving God or seeking his Kingdom.

Neglecting time with God in Worship and avoiding connections with the people of God in fellowship.

Could it be that we are developing Hearts of Stone and we don't know it or haven't discovered it yet? Could it be that we need Spiritual By-pass or Spiritual Angioplasty surgery to get blood flowing again to our hearts? Could it be that we are in desperate need of real life flowing back into the recesses of our heart and spiritual lives? Maybe we are in need of a spiritual heart transplant? The hope from scripture is that God will remove our heart of stone and give us hearts of flesh. However, we have to allow God to identify the kind of hearts we really have. Do you have an undivided heart? Is it focused on God? Is it available to God? Is it in love with God or just yourself and the things of this world? Is it a Heart of Flesh or a Heart of Stone?

May 2014

THE WONDER OF GOD'S WORD

We are reading through the gospels in a chronological harmony this year as a church. So far we have read the Sermon on the Mount, looked at some of the Miracles of Jesus and reviewed the earliest Parables of our Lord.

Every week we find something new and amazing from the pages of scripture. We are finding God's word to be wonderful, instructive and challenging. Since we are reading God's word as a harmony and not just reading one gospel at a time, we are reading parallel passages and accounts from the gospel writers together. This gives us greater insights but at times, it can also give us some greater tests to our faith and interesting challenges.

Apparent contradictions in scripture

We believe that God's word is inspired (God-Breathed) and without errors. "It is profitable for doctrine, reproof, correction and instruction in righteousness." (II Timothy 3:16) This belief often cause us to dig more deeply into God's word and not simply to accept what at first glance might seem to be a contradiction in a parallel passage. Since God does not make mistakes and neither do the writers of scripture, when we see something that seems to not quite match up, we know that there is a reason for us to study to show ourselves approved by God. As we get to the answer of the apparent contradiction we prove "that the man (or women) of God may be thoroughly equipped for every good work." (II Timothy 3:17)

These apparent contradictions may include more than just accounts given or written from a different perspective, it may also include descriptions that may seem genuinely different. One of these came to us in our reading this past week. It was the story of when Jesus sent out the Twelve Disciples to teach, to heal and to have authority over the evil spirits. This is recorded in Matthew 10:1-15, Mark 6:7-13, and Luke 9:1-6. In Matthew and Luke there is nothing said about "going two by two", only Mark records this instruction. Matthew and Luke also appear to suggest that the disciples are not to take anything including a "staff" or walking stick with them, where Mark suggests that they might have that instrument.

How do we reconcile these parallel passages?

Inherent in all the accounts is the commission to the twelve to absolutely trust God for their provision and to supply their needs. They were only to take what they had on them, no bread, no bag, no money, even their clothes were minimal. Sandals were allowed as was one tunic or coat even though a second one might have been helpful at night.

The description of "two by two" is easily explained… Mark's record is simply being more detailed than the other two. One account just doesn't contradict the others. However the issue of the "staff" is more difficult. For this reason we must dig deeper into the original greek language:

"Do not procure" Matthew 10:9 is an imperative command. They are not to obtain something that they do not have before they start their journey. Mark permits taking (airo) sandals and a staff and forbids everything else Mark 6:8-9. Matthew and Luke's account forbid "procuring" (ktaomai) even sandals and staff (walking stick). "It may be that Mark's account clarifies what the disciples are permitted to bring whereas Matthew and Luke assume that the disciples already have these things and forbids them from procuring anything more" (The Expositors Bible Commentary, Frank E. Gaebelein, Editor. p. 245)

Since the disciples need to learn that God can be trusted to provide and they also need to learn the principles that the worker is worthy of his keep and that they need to avoid luxury while they rely on God, these then make absolute biblical sense.

When apparent contradictions come up, just dig a little deeper and seek wise counsel because God's word is always accurate and true.

February 2014

Circumstances beyond our control

This week is the week that I pray with pastors in our east county neighborhood (I do that every month). While I listened to their stories I was impressed with how many of them were dealing with "circumstances beyond their control". One ethnic church was waiting for a visa for someone that they wanted to be their pastor. Others were waiting for God's next ministries and moves to be revealed to them. As I listened and prayed with them, I was reminded of the family that had come recently to visit our church. An Americano husband and a Filipino wife (we have a lot of couples like that) had moved to Portland to wait for an organ transplant at OHSU. They have been waiting for four years without any word. All of these are examples of circumstances beyond our control.

Some more examples of things outside of my control…

As I thought about this and examined my life and the situations that are close to my heart I thought about these things that were beyond my control.

We owe the IRS more in taxes this year because we had an investment that lost a lot of money (we couldn't control that either). It had to be terminated and when we did, we had to take a disbursement rather than a roll over into our IRA. I am taking a Chemo medication for my Amyloid to prolong my recovery. Where Amyloid comes from and how you get it, is still a mystery. Last week we had to cancel services at the church because of the snow storm and I hate to cancel church. At the church we are waiting for word on a loan that will allow us to complete our new Hope Ministry Center this year. We receive mission support each month from people who know us and love us, but if they should stop giving our income drops and we are in trouble. One daughter in law is waiting to hear where she and her family might be sent by the Navy after her residence is complete this summer. The other one is waiting for her nursing contract to be resolved by her hospital and her nurses union. Depending on the outcome she might have to work days, which would be very difficult for her family of two small kids and a husband who is a pastor. This morning I prayed again for the husbands of women in our church who have not yet come to faith in Christ. Why is it that when we share the gospel with people they don't just accept Christ as their Savior right away?

Even though we would like to believe that we are in control of most things, the truth of the matter is that we are only in control of a few limited areas of our life.

Some things that we control…

Our willingness to Love our spouse.

Our willingness to serve the Lord.

Our intent to honor our commitments.

Our desire to pay our bills on time and not over commit ourselves financially.

Our influence to be a good example and to raise our children correctly (we can't control how our kids turn out, because they are responsible and will make decisions on their own).

Sometimes our lack of control can disappoint us, frustrate us and even make us feel discouraged. Have you ever felt like that? When that happens, what do you do and how do you respond?

Some lessons that we need to learn…

GOD IS IN CONTROL… "The disciples were amazed and asked What kind of man is this? Even the winds and waves obey him!" Matthew 8:27

GOD CARES FOR EACH OF US… "Cast all your anxiety on him because he cares for you." I Peter 5:7

GOD IS WORKING FOR THE GOOD OF THOSE WHO LOVE HIM… "And we know that in all things God works for the good of those who love him, who have been called according to his purpose…What shall we say in response to this? If God is for us who can be against us? Romans 8:28, 31

Some things that we can do…

We do what we can and what we are responsible for.

We pray about everything else and trust God with the results.

We thank God that he is in control and that he cares for us.

When we are faced with circumstances beyond our control as believers, we have a few limited choices and decisions that we can make. We can be anxious, worry and be frustrated or we can pray, trust God and believe that he is working his best purposes in our lives. We can praise him that he is in control, even if we are not. What will you do and what will your response be?

October 2013

"The Wages of Sin..."

"For the wages of sin is death, but the gift of God is eternal life in Jesus Christ our Lord." Romans 6:23

A week ago after I heard that the weather was going to turn cold, rainy and nasty, I knew it was time to remove our deck table and chairs and put them away for the winter. This is always a big thing to Charlene because she knows that the summer and the warm weather are now over. It won't return for the next six months. She was still at work and I have been trying to get back to "normal" life since my illness. So, I made a bad decision not to wait for Charlene to come home to help me. I disassembled the table from the legs, just like always, and carried the pieces into the storage shed. No problem so far. Next, I decided to carry the table top myself down the steps into the shed. That was a big mistake!! I was on the last step and almost to the bottom when my hands started to slip. I tried to gently set the table top down on the cement, I even thought about letting it hit my foot to break its decent but there was no gentle way about it, the edge of the table hit the cement and the glass top broke into a billion pieces I stood there holding only the metal frame. As I sat down to look at that 3 inch pile of broken glass all I could think about was how stupid and foolish I had been and…

How much like sin that broken glass was, laying there on our back patio…

Once the heart brings forth sin (in an act or thought) it cannot be undone. (James 1:14-15) By God's grace, it can only be forgiven

The consequences of sin are shattered, scattered, broken lives. Sin hurts and harms people long after the original sin. (Romans 3:23)

Good intensions are not enough. We need far more; we need right living and thinking. (Proverbs 14:12)

Only God in his providence can bring something good out of our sin. He is above and beyond our sin. (Review the example of David, Psalm 51:1-13)

As I looked at my mess and as I finished cleaning up, I was "sorry" for what I'd done and I made a commitment that I would do something different in the future. (II Corinthians 7:10)

How much like temptation the events were, leading up to my "accident"…

I wanted to do it myself, I didn't want any help. (James 1:13-14)

I only thought of success, I didn't count the cost of failure. (Jeremiah 17:9)

It was my pride far more than wisdom that drove me to my big mistake. (Proverbs 21:2-3)

I came close but close still misses the mark and does the damage. (Romans 3:23)

Sin however is more than just an accident or just foolishness. It's a life of judgment. It brings a lifetime of pain for us and others. It means an eternity of torment, separated from God, an eternity beyond Heaven.

"For the wages of sin is death, but the gift of God is eternal life in Jesus Christ our Lord" Romans 6:23

July 2013

"Leaving a Legacy of Faith and Hope"

When Joshua and the Israelites crossed the Jordan River on the way into the Promised Land, God instructed them to have 12 men, one from each of the twelve tribes, take up stones from the middle of the dry river bed. This is where God had stopped the flood stage flow of the river while the nation had crossed over on dry ground. He told them to deposit them in a pile on the other side of the river. This was to be a memorial and a sign for future generations of God's miracle working power, his awesome strength and his grand provision for his people (Joshua 3: 14-4: 9).

Has God done something miraculous, great or awesome in your life, family or your church? How will you plan to remember, celebrate or memorialize this in a way that future people and generations will be caused to know believe and be challenged to follow God themselves? How will you leave a legacy of faith?

Why are these kinds of signs and memorials necessary? God knew that passing on a legacy of Faith, Hope and Trust is not an easy thing. We can't just leave this task to our church, Sunday school teachers or youth leaders to do and we can't leave it to chance. This important responsibility has been given to each of us by God. He also knows that objects and images are crucial in helping us do our job and to pass on our story. Even he provided these kinds of objects and triggers for our faith to help us. The flood has its rainbow, the Passover has its own symbols at ever Passover meal and our Christian faith has the cross.

How will you tell your story of faith? When I was faced with that question recently I did a couple of things:

First, I prayed and listened to the Holy Spirit for help. He cares as much as I do about the job I have of leaving a legacy of faith. I also asked the folks in my small group at church to pray with me.

Second, I talked with my wife. She often has as good or better ideas than I do. Beyond that, I wanted her to be on board with me since we are partners together. We went over a few ideas but nothing seemed to be just right, so we kept waiting and praying. I was looking one day at our cabinet and bookshelves in our family room when God directed my eyes to our youngest son's wedding book that my wife had made in 2010. It had pictures but no story. God then said, "why not a story with pictures?" I wrote the story "Pa's big adventure with God…God's great miracle for Pa." "Pa" is the name that all my grandchildren call me. Since they will be one of our primary audiences, it seemed appropriate to write for them. I then collected a few pictures that we had lying around the house as a sample. When my wife came home from work I asked her what she thought. She not only liked the story but she suggested that we might have some even better pictures that could tell our story.

Third, I sent a copy of the story to each of our son's and their wife to see if they had anything to contribute or to edit. We were almost complete. Now we just needed to put our book together and get copies for our family.

One more thing was needed: Our story of faith and hope involved not only our close family, it also involved our extended church family at AFCC and the people who prayed for us during 2012 while I was so sick with Amyliodisis. The question still remained, how could we give them the chance to share God's greatness with others? This would require a different kind of symbol but it was still worth praying about and pursuing.

"…Joshua set up at Gilgal the twelve stones that they had taken out of the Jordan…In the future when your descendents ask…what do these stones mean? Tell them Israel crossed the Jordan on dry ground…he did this so that all people might know that the hand of the LORD is powerful and so that they might always fear the LORD your God." Joshua 4: 20-24

April 2013

"God Plan For Us"

I know that many of you have been following my health and have been praying for us. Thank you, your prayers have made a huge difference. For those who are just reading this Pastor's corner for the first time, let me bring you up to date on what's been happening to me.

2012 was the year that tested my health and my faith…

It actually began at the close of 2011. I lost my breath and almost passed out chasing my grandson around our kitchen. After a trip to the doctor I found out I had an irregular heartbeat. They tied to shock it back into rhythm, but nothing they tried, worked. Just before Christmas on a visit to the cardiologist, he suggested that I might have Amyloid (a blood cancer that attacks the major organs). That was a relief in a way, because they had been looking for two years for the cause of my unusual test results. His next comment made us really sad. He said that he had only seen one case of Amyloid before, but that person died within two weeks of their diagnosis (Amyloid is hard to diagnose, and even more complicated to treat). A few days later I was very sick and made a trip to the emergency room. I was septic; an infection that if not treated will kill you within days. By God's grace and through good treatment I recovered and came home. One week later, after the doctor's changed my blood thinning medication, I was asleep and I fell out of bed reaching for a pillow. I could not move to get back in bed. Charlene correctly decided that I was having a stroke. She called the ambulance and they transported me to OHSU which had a brand new procedure to go through the groin into the brain and capture the blood clot. After spending a few weeks in the hospital I was almost fully recovered, a real miracle and tribute to God's grace. It was now on to treatment for my Amyloid. My doctor at OHSU was a specialist in my disease. He stayed with me through my eight months of Chemotherapy treatments, and then got a position at the University of Utah. By then I had been transferred to a new specialist in stem cell transplants (whose husband was my cardiologists) who took over my treatment. In November, I had a pacemaker installed to regulate my heart rate (which now was regularly around 120-140 bpm, at rest). I had my own stem cells removed, cleaned and injected back into my body, which required a two month stay in the Knight Cancer unit. This was a year I'd not like to ever do over again, but God was with me every step of the way. I was never alone.

Where am I today?

My latest reports from my Cardiologists and Transplant doctors are that I am in a "very good, partial remission". My blood counts are normal or very close to normal. My new immune system is progressing well. It will take a full year for that to be normal. I am back to a full schedule with my responsibilities at church. I am slowly recovering my past energy levels and my stamina is returning. I have resumed my home yard work (a big deal to me because Charlene had to do all that while I was sick). When our church gets its building permit I plan to work Saturday's with the other men and women to complete our Hope Activity center. All this would have been unimaginable a year ago and even unthinkable just a few months ago.

"All the days ordained for us"…

"For you created my inmost being; you knit me together in my mother's womb. I praise you because I am fearfully and wonderfully made; your works are wonderful, I know that full well…When I was woven together in the depths of the earth, your eyes saw my unformed body. All the days ordained for me were written in your book before one of them came to be." PSALM 139:13-16

Have you ever doubted that God knew you intimately, that he cared for you or that he had a plan and purpose for you? I can assure you that as a child of God, he knows your name and he can make something beautiful of your life, if you will let him. I am living proof of that! I am grateful that God still has a work for me to do, as long as he does, I'm here to serve him, to love my family and to love others. When he's finished with me, and I've completed the work he has for me, he'll call me home.

February 2013

What We Need So do not worry, saying, What shall we eat? or What shall we drink? Or What shall we wear? For the pagans run after all these things and your heavenly Father knows that you need them. Matthew 6:31-32.

Some people use the end of the year to review their life and make New Year's resolutions. However, research has shown that most people have broken those resolutions within just weeks of their establishment. So, let me suggest another alternative. Why not use you tax preparation time as a means to thank God for his provision for you and your family? As you gather your receipts and collect your figures to prepare your tax forms, why not spend some time in prayer giving God glory and praise for taking care of you so well? This might even turn something that we often dread into a time of celebration of God's goodness.

Let me give you a few examples from my own experience this year.

As I thumb through my tax preparation guide the first thing that I come to is the record of the quarterly payments I had to make throughout the year. This reminds me to "give to Caesar what belongs to Caesar and to God what belongs to God". Even though I often don't agree with this administration's policies on issues of the day, I am reminded that I am called by God to pray for our governmental leaders. They have been placed in their positions by God and he is the one who is in ultimate control. Next, I come to the W-2 section which lists our combined earnings for the year. I am reminded that God gave my wife a supervisory position just when we needed it together with an increase in her pay. I am grateful to God for the church we are a part of at AFCC and how well they have treated us, even when I had to be gone for two months with my stem cell transplant. Then I see a distribution amount which reminds me that my wife's parents wanted to leave a legacy to the next generation. It's not a lot but we are thankful for it and it reminds us that we are called by God to be a blessing and to leave a legacy of faith to our children and grandchildren too.

As I come to the section on medical expenses I realize that even though we paid almost $4,000.00 to doctors, hospitals, and for prescriptions in 2012, that amount could have been far larger. Without my wife's good insurance we likely could have been in a hole for one hundred times as much. God knew what we needed and he provided for it many years in advance. As I see our property taxes, I am thankful for the great home God provided for us that we have enjoyed and been able to share with many folks over the years. We have held home bible studies, had missionaries stay with us, and hosted gatherings for leaders of our churches. We have had many meetings together and even held worship services in our back yard. God has provided our home and we want to use it for his glory.

Maybe my favorite section is next, our record of giving. It's my favorite for at least two reasons, first because it reminds me that you cannot out give God. That was a lesson that we learned years ago and it's just as true today as it was when we started our practice of giving. Our first commitment is to our home church at AFCC. But we also have the priviledge to support the church plant that our oldest son pastors. The second reason is just as important. God provides mission support for us through the generous and faithful gifts of three wonderful families. This allows us to take a reduced salary at AFCC so that they have the funds for ministry, and the Hope ministry center building project that we are in the midst of at the church.

You see, God provides what we need, and we need to thank him and give him the praise and glory he deserves, even though it may come from an unusual source, like tax preparation. God has been very good to us, how about you?

Winter 2012-'13

How badly do we need the eyes our heart opened? While I cannot speak for you, I would suspect that you are still a lot like me. I need the eyes of my heart opened all the time. The issue is; that most of the time that we need the eyes of our heart opened, we do not know it or recognize it very well. So, what does God have to do? He has to manage to get our attention somehow, to help us realize just how bad our situation has become and then he has to send someone to help us with our Spiritual blindness and our poor thinking. He always does this because he loves us and he wants the best for us. He is not willing to let us settle for the kind of Spiritual blindness that comes from our limited physical eyesight and the perceptions that come from them.

What is my story…When are our physical eyes not enough? Many of you who are reading this know about my physically challenges that have come from my diagnosis of Amyloidosis (a blood cancer that has affected my heart and can affect other major organs) For the last 10 months I have been in Chemotherapy treatments every week that have left me with diminished energy (I have to have help with a lot of regular things I used to do on my own) and other side effects. While those side effects have often not been as bad as they could have been, they still have been very challenging, and wearing. It's very hard and often a grind. Even something as simple as eating regularly has become a chore for me. If I could just skip meals I would, except that I have lost 50 pounds already and cannot afford to lose any more. The other night my oldest son (he is living with us while they finish a house he is having built) decided that he needed to help his father. After an incident where he thought I showed my frustration and anger. He confronted me about what he was seeing. I tried to excuse it and explain it away by telling him that it's just so hard being sick all the time and for months on end. It's with me every moment of the day and I have to think about it and make allowances for it all the time. While I think he understood that as best as he could without actually experiencing it. He did not let me have a pass based upon that excuse. He kept saying "Dad, you are better than that" and he kept digging. He would not let me escape. It was uncomfortable for me but it was necessary for me to see that there were some things that had made me spiritually blind and that I needed to have the "eyes of my heart" opened. Without his help, I never would have gotten there. I didn't want to go there on my own but saw that I could not avoid it after my conversation with him. He prayed for me and I went on my way to unpack what I had heard and address the poor thinking that had been uncovered. I guess having a son that's a pastor is both a blessing, and an unexpected challenge. What did I find when I spent some time alone with myself and with God? I was wondering if God still loved me. I had lost my joy and my hope was difficult to find. I was frustrated with God. Yes, I am a pastor and I knew the right answers to all of these issues but what I knew and how I felt was often very different. What I needed was a new set of eyes and way of thinking.

Why do we need the eyes of our heart opened? As I continued in this process this is what I discovered. Because: We have gotten focused on ourselves and our circumstances and feel sorry for ourselves. We have gotten discouraged and disappointed through Satan's attacks. We can't see anything in life that gives us much real hope or joy. We have forgotten that it's not about us, that we serve God at his pleasure and design. We have become blind to all the good things God has done. False thinking has crept in and we need a heavy dose of the truth. Our physical eyes are clouded by doubt and mistrust and we need spiritual help.

II Kings 6:17 "Oh Lord, open his eyes so he may see."Those who are with us are more than those who are with them. II Kings 6:16… See you high and lifted up, shining in the light of your glory

SUMMER 2012

"FAITH: WHERE GOD HAS TO MEET YOU EVERY STEP OF THE WAY"

Have you ever faced a situation, where if it was going to happen, God had to be in it and had to do the miraculous from start to finish and everything in between? Your own abilities, smarts, planning and wisdom would not be enough. That is exactly the situation that our church and its leaders find themselves in right now as we are preparing to build our HOPE activity center. Last fall our leaders met to examine the next phase needs for improving the space requirements at our church. Our decision was that a multi-use building would meet our needs both now and in the future. The design was for a 40 foot by 60 foot facility that would house fellowship/eating space for over 100 people who could sit around tables. Presently now we can only accommodate about half that number. It would also include 4 additional larger classrooms for bible study. A first ever in the history of the church, nursery/toddlers classroom and an ADD approved handicap restroom.

We knew that this would be a stretch for us financially and with construction. But we didn't know just how much of a leap of faith THAT THIS WOULD REALLY TURNOUT TO BE. We began where we sensed we needed to begin, with raising funds for this project. Our congregation is not wealth nor does it have many who could underwrite this building. It would require everyone doing their part no matter how big or small for two years (October 2011- October 2013) Since we would need to build this ourselves to help us save money and costs, it would also require us to have people in our congregation regularly step up for construction. We would need more than just willing people; we would need some skills for everything from concrete to carpentry. Which we knew were in limited supply. We also needed a leader to manage the project and additional leaders who could help supervise various parts of the building and give direction to people. Now if God is not in this, all this would sound like a formula for disaster or certain failure. Everything you read on leadership tells you not to move forward until you know what you have to work with and are certain how you are going to get there. Good advice but it also minimizes much need for faith and dependence upon God. In our case we couldn't get there without God intervening, and meeting us with his answers at every step along the way. We decided to exercise faith and see how God would provide. It has been astounding, amazing and awesome. But we serve an awesome God don't we?

He brought a man who had experience in project management to our church. He was willing to take this project through the Multnomah county permit process (no small, simple or easy task) He provided a brother of one of our members to do the design and many of the drawings. We saw God raise up a man in our church at just the right time who had not before been a leader but had been part of our men's leadership development group, to take on the task of moving the children's play equipment from behind Grace hall to in front, including the fencing, to make the room for our HOPE activity center construction. This took 6 weeks and he recruited volunteers and gave them the direction they needed. With God's provision so far, we knew that his hand was in it and we knew that it was only a promise of what he could do in the future. With every answer he gave and person he provided our faith grew and we were confident that he would walk with us all along the way. We still are in need of many answers that WE DO NOT HAVE RIGHT NOW. But we know that God is faithful and we want to be faithful too, so we keep moving forward with anticipation and expectation waiting to see how God will provide and answer our prayers the next time.

One other test of faith came as we began to raise the funds necessary for the project. It was almost the exact time that I found out I that I had a blood cancer illness and I would need extensive chemotherapy treatment. Nobody ever recommends going into a project like this without their Pastor in top shape and mind. Then in December and January I had almost died with a septic infection, next came a stroke. But God's way was significantly different, he wanted some of the wonderful men in our church to step up and take on a bigger part of the load, which they most graciously did.

I have saved one of the best parts until last. We really needed $50,000.00 committed over a two year period over and above our regular giving to help us feel comfortable starting this project and to put it on a firm financial basis. We asked our people to step out by faith, and we knew we would need some outside donors who would also help us reach our goal. Our people have committed and given and we have had some gracious gifts come in from outside the church. While we know that the $50,000 goal will not complete the building, we also know that with that financial start we can feel comfortable borrowing a remainder of the money and know we can make the payments necessary to pay it off effectively. Here is how God has met us. In 8 months from our people and outside givers $13,000 has been given. God has allowed us to transfer an additional $15,000 from our general fund to the building fund. This is because of God's faithfulness through our people and because of some generous givers who support my wife and me as a mission to AFCC every month, so I can take a limited salary from the Church. With their gifts I can have a reasonable support level and the church can set funds aside for this important project. Only God could do this kind of thing. It's all about him from start to finish. When this is all complete, for anyone who knows the story, it will be obvious that this was something only God could do, and he had to do, or it would not have happened. So he alone gets the credit the Glory and the honor. From start to finish and at every step along the way this was God.

Hebrews 11: 6 "And without faith it is impossible to please God, because anyone who comes to him must believe that he exists and that he rewards those who earnestly seek him".

P

ast

P

astor's

C

orner



Fall 2011

FACING THINGS THAT ARE POTENTIALLY LIFE CHANGING

I try to write about things in my Pastor's Corner that are spiritually practical. Things that apply to me and they can be lived out in your life too.

So what happens in life when you face things that are potentially life changing? Things that take your well designed plans and potentially turn them upside down? Let's first start with a scripture. Jeremiah 32:17-19 " Ah, Sovereign Lord, you have made the heavens and the earth by your great power and outstretched arm. Nothing is too hard for you. You show love to thousands but bring the punishment for the father's sins into the laps of their children after them. O great and powerful God, whose name is the Lord Almighty, great are your purposes and mighty are your deeds. Your eyes are open to all the ways of men; you reward everyone according to his conduct and as his deeds deserve."

The scripture says that God is in control. His power is beyond measure because nothing is too hard for Him. It says that God's love and purposes are the reason for His design for all of his children. It says that those who trust in Him are rewarded because of their faith and deeds. The question is; do we really believe that this is true especially when we face life altering situations. Do we ask, "Lord, what am I going to do" or do we say, "Lord, what are you up to and what are you going to be doing?"

This week I went into the doctor to ask him to check what I thought was a strange rhythm in my heart. Lots of times when the doctor examines you, the rhythm has stopped and they can't find anything. Thursday, my heart cooperated and the EKG was abnormal. I have an irregular heart beat that can either be more simply addressed or can be more involved, depending upon what they find with further testing. To compound the situation, I have a history of heart disease on my mom's side of the family. I have an appointment on Tuesday to visit a specialist and decide what the treatment needs to be. Because of the potential danger, I can't drive school bus (my second job) until this issue is resolved. It was disappointing to have to tell my new employer that I had to take a leave from driving after only working one month. So what does my future hold? What do I pray? Lord, what am I going to do, or Lord what are you up to and what are you going to be doing? The second prayer puts the focus on the Lord's wisdom, power, strength, faithfulness and mercy. God carries out his plans, purposes and will. We surrender all of our plans into His hands. There is no reason for worry or concern. I can't make anything happen by myself anyway. All I can do is trust Him and wait for Him to give an answer and show me what I need to do next. I thank God that my family made me go to the doctor. But from here on out it's up to God, His will, His ways and to the specialists who will design a course of action and suggest whatever changes in my lifestyle that I must make. You see, God was in control all along. Why should I doubt Him now? If my condition would have been more serious, I wouldn't even be around today to write this article. God still must have work for me to do, it just will involve changes to my thinking and maybe even my lifestyle. I trust Him, He has always been more than generous and trustworthy. So Lord, what are you up to and what are you about to be doing?

Hebrews 11: 6 "And without faith it is impossible to please God, because anyone who comes to him must believe that he exists and that he rewards those who earnestly seek him".